Newsletter
April 2023 Newsletter
Dear Friends and Neighbors,
April began with time off from Sacramento and being back home in the district, as the Legislature took its Spring Recess, allowing me to catch up with constituents, connect with education groups, and enjoy some much-needed time with my family. Now, it's back to Sacramento during the time of the year when the legislative tempo really starts to pick up the pace.
In honor of Earth Day on April 22nd, it's only fitting that we all take a moment to reflect on how our actions, both individual and collective, can impact the environment, along with the things we can do to preserve and promote the environment. This year's Earth Day will be the 52nd such celebration since Senator Gaylord Nelson of Wisconsin created it as a way to force consideration of the environment and its preservation onto the national agenda.
This year's Earth Day theme is "Invest in Our Planet," to emphasize the importance of dedicating the necessary time, resources and energy toward finding solutions to climate change and other pressing environmental issues. Investing in our planet represents the best path forward to a prosperous future. To publicize your own Earth Day events, or to find community events happening near you, check out this interactive map.
As always, if I may be of assistance, please don't hesitate to contact my office at 714-525-2342 or https://sd29.senate.ca.gov/contact.
All the best,

Josh Newman
Senator, 29th District
Legislative Update
April is always among the busiest months in the Capitol, as bills start to make their way through the sometimes-labyrinthine legislative process. Budget subcommittees are hard at work during this time, vetting and prioritizing funding proposals while policy committees analyze and debate the literally thousands of bills introduced by the 120 members of the Legislature (40 in the Senate, 80 in the Assembly) since the start of the year.
I wanted to update you on some of my own legislative proposals which have now made it through their first legislative policy hearings (I'll be sure to update you on more bills later this spring):
SB 425: Hydrogen Pickup Truck Incentives
As you may be aware, the state of California has now fully committed to an ambitious and aggressive goal of moving beyond gasoline-powered automobiles by the year 2035. To achieve this objective, it's my strong belief that hydrogen fuel cell electric vehicles (also referred to as FCEVs in academic and policy circles) will need to be part of the mix of vehicle choices offered to California drivers in order to meet the transportation needs of some of the so-called "hard-to-decarbonize" driver profiles, especially those where battery-electric vehicles (known as BEVs in the same circles) are unlikely to be a preference or a practical choice.
With almost one million new registrations in California in 2021 alone, pickup trucks are a prime example of a vehicle class in high demand and desperately in need of zero-emission options. If California hopes to realistically meet its various decarbonization goals, we need to increase access to zero-emission pickup trucks consumers will want. That's why I've introduced SB 425, which would grant hydrogen pickup truck purchasers increased financial incentives and access to HOV lanes as incentives toward their purchase. On March 29th, SB 425 passed out of the Senate Environmental Quality Committee on a 6-1 vote and is now headed to the Senate Transportation Committee later this month.
SB 444: Mathematics, Engineering and Science Achievement (MESA) Programs
Despite recent significant investments and advances in teaching approaches, California continues to see uneven progress toward increasing racial and ethnic diversity in Science, Technology, Engineering and Math (STEM) jobs. The MESA program, established in 1970, offers promising solutions to close this gap. MESA programs offer a free, rigorous academic environment that allows students from lower socio-economic backgrounds to accelerate their academic preparation, build on what they bring from their communities and access opportunities that wouldn't otherwise be available to them.
I'm proud to be carrying SB 444, which encourages California community colleges to establish Mathematics, Engineering and Science Achievement (MESA) Programs by creating a set of guidelines for programs to follow in order to receive state funding. I'm pleased to report that SB 444 passed out of the Senate Education Committee on March 22nd and is now headed to the Appropriations Committee for fiscal review.
For a full list of my bill package for the 2023-24 Legislative Session, please visit my website here.
Celebrating Women's History Month
On March 20th, I joined my colleagues in the Senate to recognize the contributions and progress made by women in our communities. This year's ceremony celebrated a diverse group of dynamic women from all across the state who are making a difference throughout various sectors in California. Their bold and purposeful leadership sets an example that will inspire a new generation of women leaders throughout the state to continue to fight for gender equality.
As part of that ceremony, it was my distinct privilege to recognize Kelly Vlahakis-Hanks as the 29th Senate District's "Woman of the Year." As the CEO of Cypress-based ECOS, Kelly's vision and leadership has led to ECOS becoming the first company to achieve the "sustainability trifecta" of carbon neutrality, water neutrality and Platinum Zero-Waste certification. As an African American woman and daughter of a Greek immigrant, Kelly has always made social justice a cornerstone of the company along with its mission of environmental sustainability. She actively promotes a culture of diversity and empowerment within the company, ensuring that over 50% of the company's top executives are women. It should therefore come as no surprise that Kelly has received many awards in recognition of her outstanding leadership, entrepreneurship and commitment to sustainability.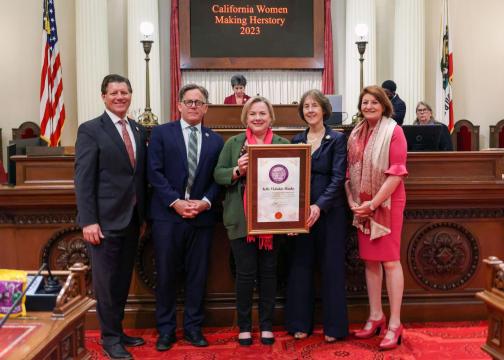 Kelly is truly deserving of this recognition and it was my pleasure to highlight her work as part of this event. Kelly was represented on the Senate floor during the ceremony by Kristine Waldren, ECOS's Senior Director of Corporate Communications and Government Affairs. Kristine joined my district representative Elizabeth on a tour of the Capitol Museum and, following the floor session, attended a reception at the Women in California Politics Museum to meet and compare notes with some of the other honorees.
Hearing on California's Teacher Workforce
Last month, I partnered with Senator John Laird, the Chair of the Senate Budget Subcommittee on Education, to convene an oversight hearing to explore and assess the growing gaps in the state of the educator workforce. This longstanding issue has been further compounded by the pandemic, and it's essential that we work deliberately to find workable solutions. Despite the significant investments made over the past decade to improve recruitment, retention and training of educators, the shortage of teachers persists, particularly in crucial subject areas like science, bilingual education, special education and math. High rates of teacher turnover, which accelerated during the pandemic, further compound the issue, with increasing numbers of teachers either leaving the profession, switching schools or retiring.
Over the course of the hearing, we heard from a diverse panel of experts who provided insights on how our institutions of higher learning are working to build a stronger educator pipeline. While some progress has been made, numerous challenges remain, including declining national enrollment, the need for more robust teaching programs, and ensuring that education is affordable for all students. Additionally, K-12 teachers shared their experiences, highlighting the additional burdens that have fallen on them due to the insufficient number of educators in the workforce.
Solving the shortage of educators in California is a complex problem which won't be achieved overnight. Despite the challenges, I remain as committed as ever to working with my colleagues in the Legislature to find effective solutions to address this critical issue and ensure that every student in California has access to the highest-quality education possible.
If you missed the hearing and you'd like to watch the recording, click here.
CASA Appreciation Day
On March 23rd, I was pleased to present SCR 35, commemorating "CASA Appreciation Day" on the Senate floor. Serving as advocates and voices for foster children within the juvenile justice system, Court-Appointed Special Advocates play a critical role in advancing the best interests of children in this very challenged and challenging system.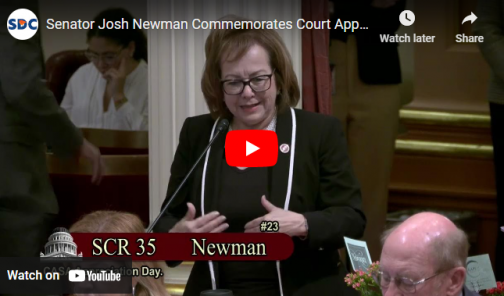 Last year in California, over 11,000 CASA volunteers served more than 12,000 youth in the dependency system, contributing approximately 441,000 hours of service. If that were paid work, it would be valued at well over $15 million. The statewide CASA network includes 514 staff members and 507 local board members employed by CASA programs up and down California who work every day to ensure that CASA volunteers have the resources and guidance to provide effective and compassionate advocacy.
My wife Darcy and I have both had the privilege of serving as CASAs in the past, and that experience, perhaps more than any other I had prior to assuming my current position, gave me valuable insight into how complex the child welfare system is and how overwhelming it can be for a child who does not have an adult helping to guide them through the process.
To learn more about the work of CASA, or if you're possibly interested in becoming a CASA, visit their website here.
UCI Nursing School Community Partner Breakfast and Tour
On March 17th, I joined various community partners on a very informative tour of UCI's new Sue & Bill Gross School of Nursing, a key element of the university's ongoing efforts to create a health sciences complex which will lead nationally in the realm of integrative training, research, and healthcare. As the latest addition to the Susan and Henry Samueli College of Health Sciences, the building will be equipped to provide modernized nursing training by way of clinical patient scenario simulations using state-of-the-art technology.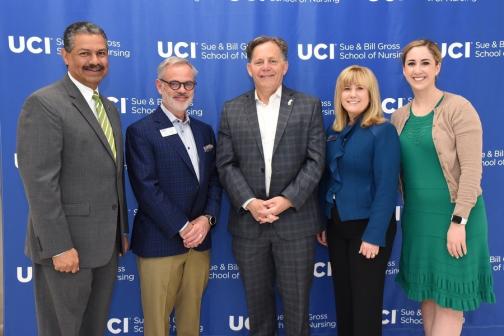 48th Annual Cypress College Foundation Americana Awards
Every year, the Cypress College Foundation hosts the Americana Awards Gala, which honors community members who have made extraordinary contributions to Cypress and the surrounding region. I was privileged to attend this year's gala and to join in celebrating this year's impressive slate of honorees. Over the course of a thoroughly enjoyable evening, a "Citizen of the Year" from each of the eight cities Cypress College serves was honored. Each awardee was joined by a mayor or council member from their respective city as they received their medal on stage. As the finale, Cypress College also honored its "Person of the Year," Liz Dunster, a Buena Park resident who has remained deeply involved in her community following a very successful career in the record industry.
Other guests of honor included retiring Cypress College President Dr. JoAnna Schilling, who was recognized by Cypress College students for the contributions she had made to advance the College's goals and create better academic opportunities for students.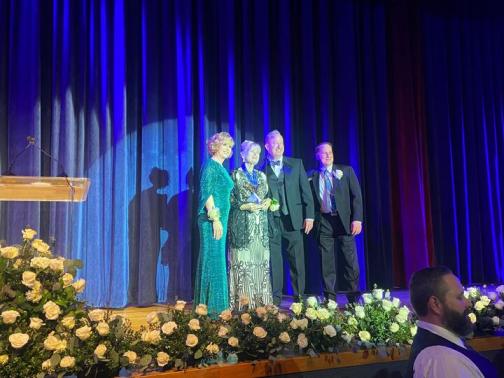 Fullerton College Drone Lab
Since its establishment in 2018, the Fullerton College Drone Lab has been training students in drone technology, an up-and-coming field which is rapidly growing in demand in recognition of its general utility and potential applications across various sectors, to include cinematography, public safety, mapping, real estate, agriculture and infrastructure. On March 3rd, members of my district staff and I visited the lab to learn more about its Drone Piloting Apprenticeship program—the first accredited apprenticeship of its kind in CA and the United States. Director Jay Seidel, who heads and coordinates the program, provided an overview on Federal Aviation Administration licenses and certifications available to graduates of the program, which will assist students in creating robust career pathways in any applicable industry.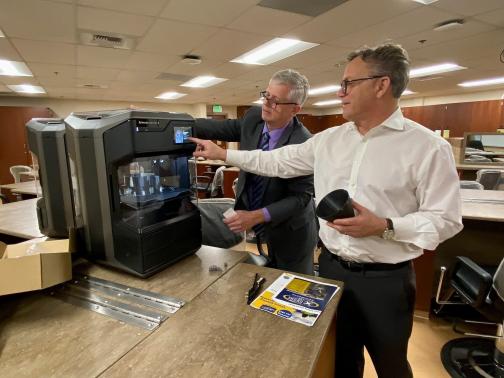 March's 29th Senate District Citizen of the Month
I'm very proud to present Anne Fleck, a distinguished occupational therapist and resident of Yorba Linda, as the 29th Senate District's "Citizen of the Month" for March 2023.
Occupational therapy is utilized across all age groups and populations to develop, recover and maintain the mental and bodily functions that are necessary for people to successfully re-engage in everyday activities.
Anne began her career as an occupational therapist at the VA Long Beach Healthcare System, where she specialized in assisting military veterans who had suffered spinal cord injuries to physically recover and regain their self-sufficiency. After nearly ten years of service at the VA, Anne co-founded the private practice "Russo, Fleck and Associates" in 1990, and she shifted the specialty of her care to pediatrics.
Since then, Anne's team has become a vital resource to school districts across southern California for the assessment and treatment of students with physical and intellectual disabilities. In this work, Anne assists students aged 3-22 in improving their fine-motor skills and communication and social abilities to promote greater independence in adult life. Anne is passionate about her profession, and she cares deeply about the students she serves.
Please join me in recognizing Anne for her outstanding contributions to healthcare and the well-being of our community.
March's 29th Senate District Restaurant of the Month
Looking for comfort food that is fresh, delicious, and good for you? Then make your way up the 57 to the city of Walnut and check out Native Fields.
It was my pleasure to be able to recognize Native Fields as the 29th Senate District's March 2023 Restaurant of the Month. Sisters Cat Castaneda and Christine Cornwell opened Native Fields in 2018 in honor of their late father, Marcel Castaneda, who passed away from cancer in 2016. While caring for their father, Chef Cat noted a lack of access to clean, fresh food in the community. Chef Cat's background and training in the farm-to-table restaurant industry allowed the duo to fill a much-needed gap in the community. From the restaurant's location to its 100% locally sourced ingredients, the mission of Native Fields is intentional, centered on delivering healthier food options and access to pesticide-free and non-GMO ingredients to local residents.
Native Fields regularly hosts events at the restaurant, often in support of local nonprofits, and has established an inclusive and welcoming space for the community to gather and socialize over quality meals. Their presence and involvement in the community has continued throughout the pandemic and beyond.
Whether you're craving Filipino-inspired pork belly and bagoong fried rice, or fresh oysters paired with natural wines, the Native Fields menu will be sure to regularly exceed your expectations.
Join Native Fields in celebrating their 5th anniversary. Native Fields is located at 18750 Amar Rd., Walnut, CA 91789.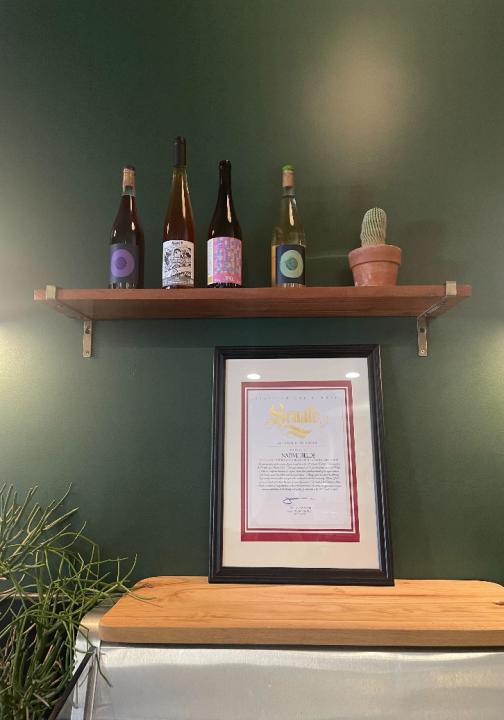 From Erica Lucia, District Director:
"On March 25th, I attended the 73rd Golden Mike Awards, hosted by the Radio & Television News Association of Southern California. The Golden Mike Awards celebrate excellence in broadcast news, and our office was invited to celebrate the nomination of the PBS SoCal special "Homeless in Orange County" which showcased the work of the North Orange County Public Safety Collaborative. Senator Newman is featured in this special, which won two Golden Mike Awards: Best News Talk Show/Public Affairs Program and Best News Reporting. The special will hit the airwaves again on the PBS channel, but if you miss it you can stream it anytime here."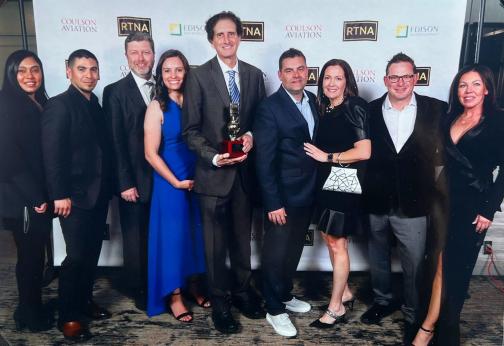 From Sheen Sidhu, serving the cities of Buena Park, Brea, Industry and Yorba Linda:
"This month I had the pleasure of meeting and recognizing the Seongbuk-Gu delegation from South Korea. On March 14th, the Buena Park City Council, along with representatives from the offices of elected officials, gathered to welcome the delegation from Buena Park's sister city, Seongbuk-Gu. Accompanying the delegation was a group of middle and high school students from Seongbuk-Gu, who will be staying with host families in Buena Park as part of an educational exchange. It was an exciting experience to witness the collaboration between the two cities and learn more about their work to bring attention to the Korean-American experience."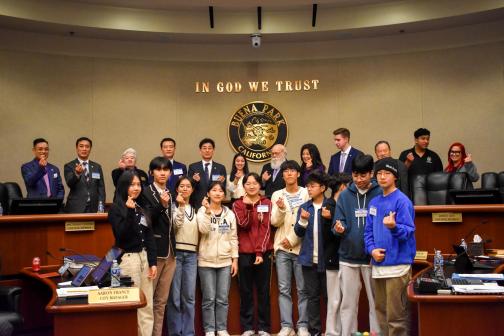 From Scott Do, serving the cities of Fullerton, La Habra, Stanton and Walnut:
"This month I had the opportunity to attend the 150th anniversary celebration of the oldest school in Fullerton. This is one of the moments that reminds me of how fortunate I am to work for the neighborhood I grew up in. I presented a special certificate to commemorate this once-in-a-lifetime milestone, along with many other elected officials, faculty and community members, to Orangethorpe Elementary – the school that taught me how to care for each another, the importance of community, hard work and friendship. I will never forget those lessons. Happy birthday Orangethorpe! I'm a proud Orca for life."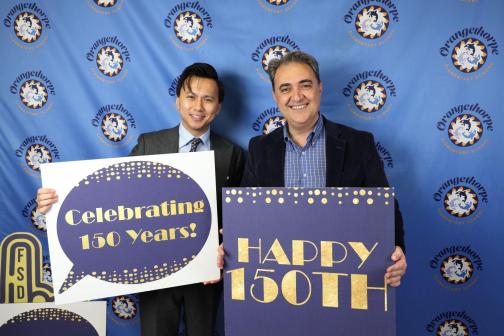 From Nathan Bass, serving the cities of Anaheim, Chino Hills, Diamond Bar and Placentia:
"On Friday, March 24th, I participated in a press conference to publicize the full implementation of SB 266, Senator Newman's 2021 bill that expanded Chino Hills State Park by 1,500 acres. Set deep inside the park by the advocacy group "Hills for Everyone," the event felt far away from the maze of stoplights and freeways that had brought me there. It felt like a short vacation, aside from all the microphone wires and clipboards. Be sure to make a trip to Chino Hills State Park yourself, and bring your family or friends. Wildflower blooms are expected to appear across the state in April and May, according to CA State Parks."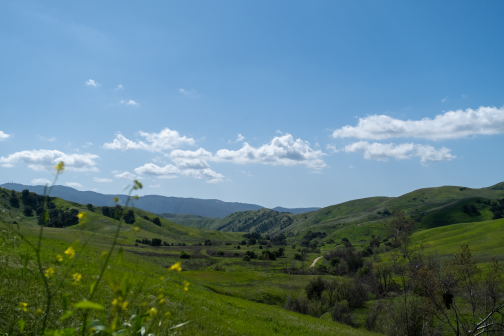 From Elizabeth Lavezzari, serving the cities of Cypress, La Palma, Rowland Heights and West Covina:
"On March 23rd, I joined Brea Olinda Unified School District for the sixth annual State of the Schools. Superintendent Brinda Leon highlighted the District's many programs and initiatives to support student success and wellness. One program highlighted was the NOCROP's Building Industry Tech Academy (BITA), where students gain hands-on experience exploring the construction trades. Instructor Pat Axtel and three students in the BITA program spoke about their experiences in this career pathway, including their participation in this year's Construction Industry Education Foundation's Southern California Design Build Competition.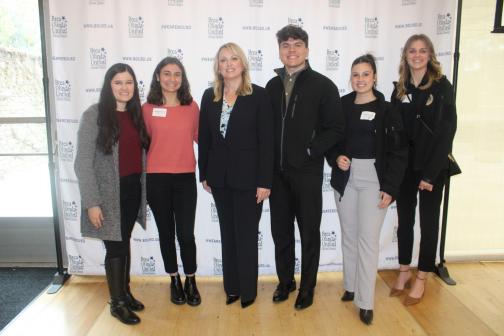 Later that day, Erica and I stopped by Golden West College to see the Design Build Competition in action. Students from Brea Olinda High School, Savanna High School and Valencia High School (all within SD-29) participated in the two-day competition against teams from across Southern California. It was incredibly impressive to see the quality structures built by students as they gain valuable experience, life skills and insight into the construction industry as part of this program."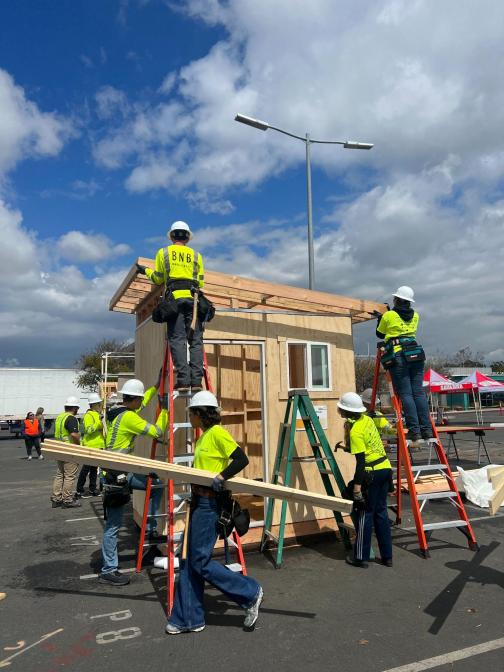 I'm lucky to have the privilege of serving you. As always, please let my staff or me know how we may be of service.
To contact the member of my team responsible for your community, click on their name to send an email:
Upcoming Tax Deadline
As we near the April 18th tax deadline, here is some important information that could be beneficial as you prepare to file your taxes.
The Middle Class Tax Refund is NOT Taxable: The MCTR payment is not taxable for California state income tax purposes. You do not need to claim the payment as income on your California income tax return.
The California Earned Income Tax Credit: The California Earned Income Tax Credit (CalEITC) offers support for low-income, working Californians. You may be eligible for up to $3,417 cash back or a reduction of the tax you owe.
Young Child Tax Credit: You may qualify for up to $1,083 cash back if you had a child under the age of 6 at the end of the tax year.
Disaster-Related Tax Relief: The FTB and IRS are providing tax relief by extending the deadlines for affected taxpayers to May 15th, 2023. Affected taxpayers include individuals and businesses located within the communities covered by the most recent winter storm disaster declarations.
There are a number of resources available as you prepare to do your taxes, including:
CalFile: You can use CalFile to e-file your state tax return for free directly to the Franchise Tax Board. Get real-time confirmation and the fastest refund possible.
IRS Free Tax Return Preparation for Qualifying Taxpayers: The Internal Revenue Service's (IRS) Volunteer Income Tax Assistance (VITA) and Tax Counseling for the Elderly (TCE) programs offer free basic tax return preparation to qualified individuals, including people who generally make $60,000 or less, persons with disabilities and limited English-speaking taxpayers.
IRS Tools: The IRS has a variety of online tools available for individual taxpayers, businesses and tax professionals. From ordering copies of tax records to checking the status of your income tax refund and finding out what credits and deductions you qualify for, this list of tools is a great place to start.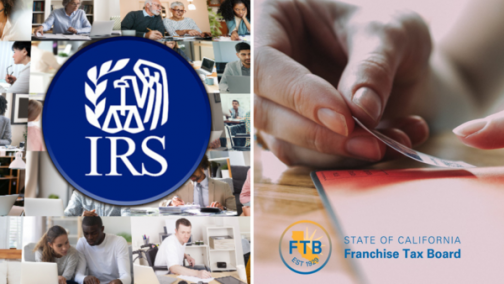 Explore State Parks for Free
There are many opportunities to explore the great outdoors with your family and friends. Here are three ways to get outside and save money once the weather warms up:
Fourth graders can obtain a free California State Park Adventure Pass to explore 19 select state parks for free for a full school year.
All Californians can check out a California State Parks Library Pass by using their library card to access more than 200 participating state park units.
Families receiving California Work Opportunity and Responsibility for Kids (CalWORKs)' individuals receiving Supplemental Security Income (SSI) and income-eligible Californians 62 and over can apply for the Golden Bear Pass with their smartphone or other web-based device in just minutes and have access to more than 200 California state park units.
Clean California Funding
With more than 1.3 million cubic yards of trash cleaned from California highways since 2021, the Clean California Initiative is launching a new round of funding for $100 million in grants for local projects. Apply for the Clean California grants here by 5 p.m. on April 28th. Caltrans will announce the winning grant recipients by September. Potential projects can include removing litter on city streets, creating a gateway at the entrance to a town or neighborhood, beautifying an area through greening or landscaping or using public art to reinforce community cultural connections.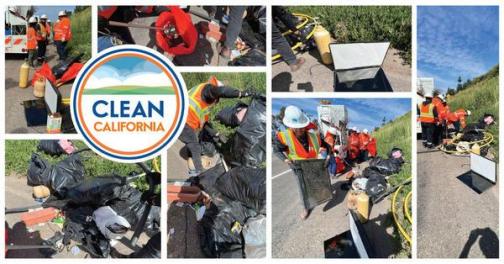 SoCal Gas Assistance
If you're having difficulty paying your natural gas bill, the Gas Assistance Fund (GAF) may be able to provide you with a one-time grant for the amount of your gas bill, not exceeding $100. These funds are allocated on a first-come, first-served basis. Eligible customers can apply here until all funds are depleted.
To qualify for GAF, you must meet the following requirements:
The natural gas bill must be in the name of the applicant requesting assistance.

The billing address must be the applicant's primary residence.

The applicant must not apply for more than the maximum GAF allowance for the current program year.

The applicant must meet the income guidelines.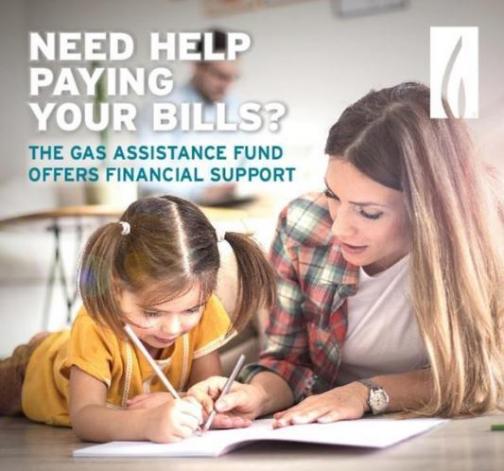 OCIE Small Business Development Center Access to Capital Webinar Series
In the month of April, the Orange County Inland Empire Small Business Development Center will be hosting a Monthly Webinar Series focused on capital for your business. Tune in to this four-part series to learn about the different funding opportunities available. Sign up here: capitalformybusiness.eventbrite.com.