Newsletter
Senator Newman's August 2022 Newsletter
Dear Friend and Neighbor,
As you may have heard, on August 1st Governor Gavin Newsom declared a state of emergency in California in response to the ongoing monkeypox virus outbreak. This is largely a technical matter, creating the legal basis to help bolster vaccination efforts and enable California to quickly mobilize public health resources. In a similar vein, on August 4th President Biden declared the monkeypox outbreak a public health emergency. Due to a limited current supply of vaccines, the monkeypox vaccine (which goes by the brand name Jynneos and is indicated for the prevention of smallpox and monkeypox disease in adults 18 years of age and older at high risk for smallpox or monkeypox infection) is so far being made available only to high-risk groups. If you're concerned about the monkeypox virus or have reason to believe you may be exposed, you can learn about vaccine eligibility and how to get a vaccine for monkeypox in Orange County, Los Angeles County and San Bernardino County by clicking on your county of residence.
After more than two years of living through the COVID-19 pandemic, the rise of the threat of monkeypox is a source of natural alarm for many. It's important to note, though, that monkeypox is neither as contagious as COVID and nor anywhere near as lethal. The activities that put a person at highest risk of catching the virus involve close, intimate contact with an infected person.
Currently, people are unlikely to get the virus by trying on clothing or touching items like door handles and counters. If you know you may be in an area where monkeypox has been contracted, health officials recommend masking up indoors in order to decrease the possibility of respiratory transmission. The California Department of Public Health has a webpage dedicated to monkeypox for anyone interested in learning more. 
As always, if I may be of assistance, please don't hesitate to contact my office at 714-525-2342 or https://sd29.senate.ca.gov/contact.
All the best,
Josh Newman
Senator, 29th District    

 

One More Month of Session
After a very busy and productive month back in the district, the legislative summer recess came to a close with our return to Sacramento on August 1st. My time in the district was filled to the brim with tours, meetings with local leaders and constituents, and ended with a family camping trip!
Your state representatives are now back in Sacramento for the final month of the 2021-2022 legislative session. Over the next four weeks, in order to become law, all policy proposals must pass out of fiscal committees and head to the floor for a final vote, after which the Governor will have until September 30th to either sign or veto all passed legislation. I currently have a total of 9 bills before the Assembly Appropriations Committee and am hopeful that all of them will be passed out for consideration on the Assembly floor by the end of this week. These are in addition to my other 5 bills which are already ready for consideration on the Assembly floor.
Middle Class Rebate
In response to the impact on California families of record-high levels of inflation, this year's California State Budget includes direct payments of $350 to $1,050 for 23 million Californians. Eligible Californians can expect to receive their payments between October 2022 and January 2023.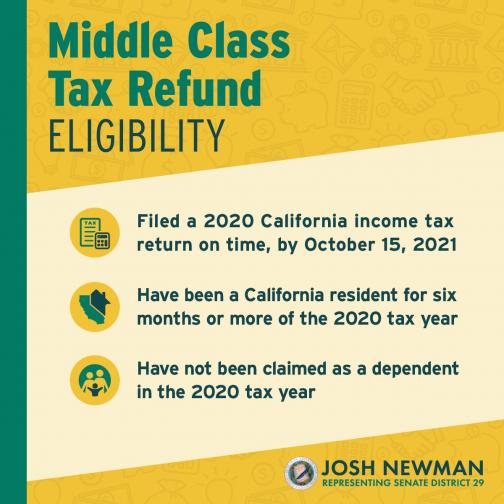 My office has received numerous calls about eligibility for inflation relief payments. You are generally eligible if you:
Filed your 2020 tax return by October 15, 2021
Were not eligible to be claimed as a dependent in the 2020 tax year
Were a California resident for six months or more of the 2020 tax year
Are a current California resident on the date the payment is issued
Still not sure if you qualify? You can learn more about eligibility here.
INFORMATIONAL HEARING: Lessons Learned During the COVID-19 Pandemic
In my role as Chair of the State Senate Special Committee on Pandemic Emergency Response, I convened an informational hearing on Tuesday, August 9th, which examined what we have learned from the COVID-19 pandemic, with a particular eye on how California can best prepare for future health emergencies.
During Tuesday's hearing, expert panelists provided assessments of California's performance and highlighted future investments necessary for the state to respond to the next pandemic more nimbly and effectively. Additionally, I was joined by forward-thinking leaders from the fields of public health, behavioral health, and disaster response who shared their perspectives concerning the state's long-term planning and preparedness for future large-scale public health threats.
If you missed the hearing but want to view it, you may watch an archived stream of the hearing here.

 
Anaheim Community Hospital Open House
On July 1st, Nathan and I attended Anaheim Community Hospital's Open House. The hospital, which officially opened for patients this month, has 98 inpatient beds dedicated to serving children, adolescents, adults, seniors and medical-psychiatric patients, and will offer general acute medical-surgical care, as well as acute and crisis behavioral health services for children ages six and up. We were pleased to join them in celebrating their grand opening and wish them the very best as they provide compassionate, holistic care to patients. You may learn more about their services here.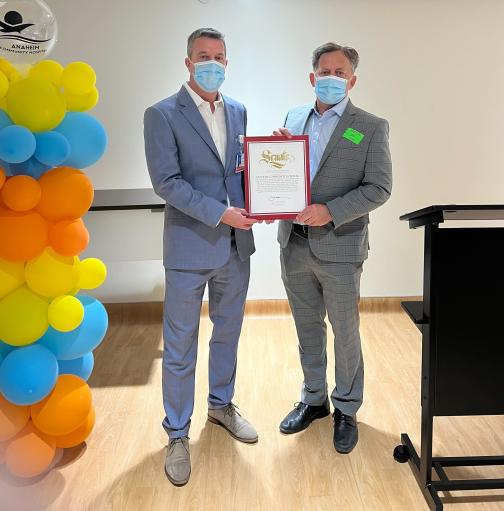 A Healthy, Happy Harvest
On July 11th, Erica, Brandon and I went on a tour of the Harvest Solutions Farm and the Second Harvest Food Bank Distribution Center in Irvine. Second Harvest Food Bank serves roughly 490,000 people per month and distributed more than 59.3 million pounds of food in 2021.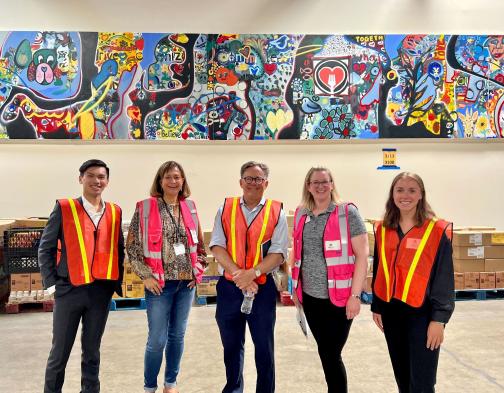 A food bank growing its own produce is almost unheard of, yet Second Harvest Food Bank is doing just that as a way to provide fresh, high-quality fruits and vegetables to their clients while cutting down on carbon emissions. The Harvest Solutions Farm, which sits on 45 acres of land leased from the University of California, is run and maintained almost entirely by volunteers. This season, their volunteers have harvested squash, bell peppers, cabbage, and even watermelon. Growing its own fresh produce to distribute through over 250 local partners, Second Harvest Food Bank is in keeping with Second Harvest's mission of ensuring "consistent access to dignified, nutritious food" for the people who use their services.
Giving Back by Giving Blood
On July 16th, our office was very pleased to be able to partner with the California Association for Nurse Practitioners and the American Red Cross Southern California for a blood drive, and I'm proud to note that we exceeded our donation goal, collecting enough blood to save 93 lives (as well as the fact that I was among the donors). A couple of interesting facts gained over the course of the day: your body has about 5.6 liters (6 quarts) of blood. This 5.6 liters of blood circulates through the body three times every minute. In one day, your blood travels a total of 12,000 miles as it works its way through your body—that's four times the distance across the US from coast to coast. I'm immensely thankful for the contributions of those who donated, for the wonderful nurse practitioners who staffed our event, and for the American Red Cross for doing the essential work that they continue to do. If you're healthy and can donate blood, please consider doing so.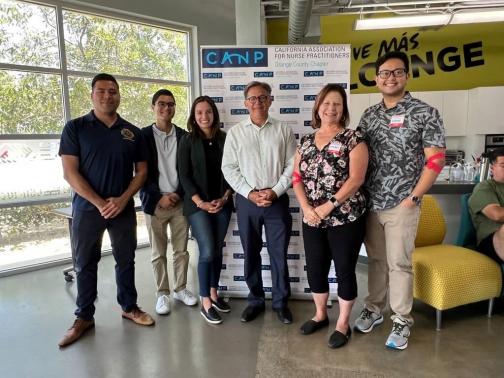 Touring Goodwill of OC's Tierney Center
On July 22nd, we had the opportunity to visit Goodwill of Orange County's Tierney Center for Veteran Services, which offers comprehensive services to OC veterans and their families. At the center, veterans seeking services are paired with a fellow veteran and given one-on-one assistance to help navigate quality veteran resources throughout Orange County. For more information on the center's services, visit their website.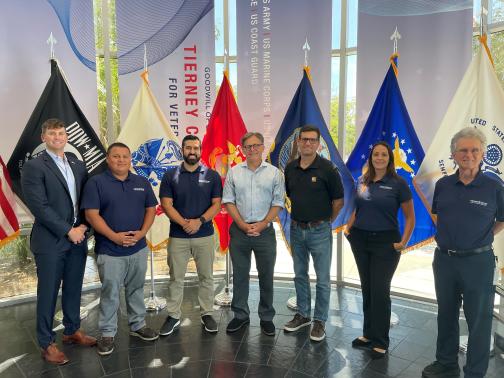 Jasmine Hernandez's passion is powered by plants and has reached its full expression in her very cool downtown Fullerton restaurant, Chicana Vegana, a purveyor of delicious vegan Cali-Mexican cuisine. We were pleased to select it as the Senate District 29's Restaurant of the Month for July.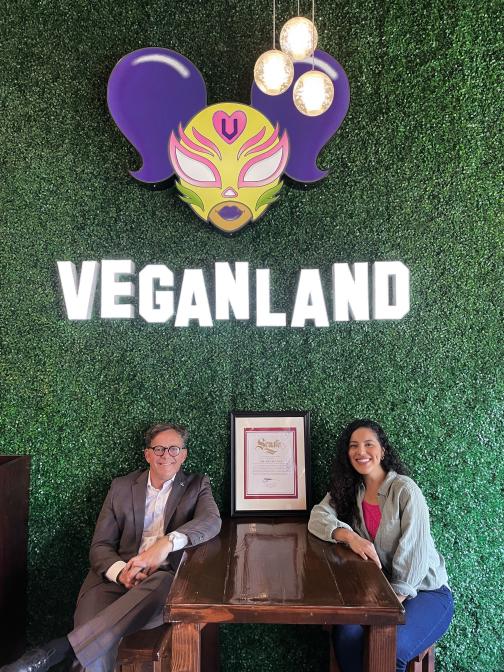 As a passionate advocate for animal rights and cruelty-free practices (both in the kitchen and in everyday life), Jasmine has crafted a balanced, creative menu that aligns with her values. She melds the comfort foods of her childhood with an activist spirit to fulfill the simple desire to serve good food to good people - all for the good of the planet.
Since its opening in July of 2020, Chicana Vegana has rapidly established itself as a much-loved destination in the vegan community. You don't have to be a vegan, though, to enjoy its plant-based spin on familiar Mexican and American dishes. If you're looking to snack on a plate of loaded nachos, craving a lunchtime (plant-based) burger, or celebrate Taco Tuesday, stop by Chicana Vegana at 113 East Commonwealth Avenue in Fullerton.

 
In honor of Disability Pride Month, we're honored to share the inspiring story of Zack Collie, our July Citizen of the Month.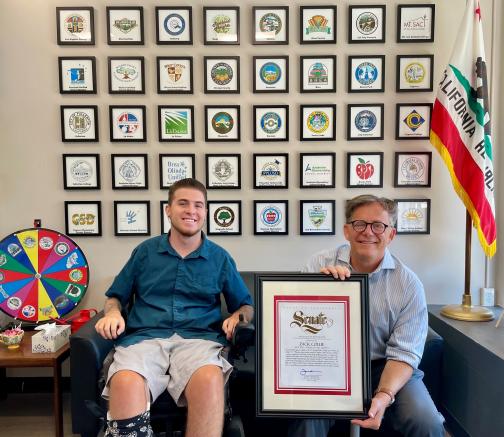 In 2010, at 15 years of age, Zack Collie suffered a spinal cord injury that left him almost completely paralyzed. During an otherwise unremarkable Memorial Day weekend outing with friends, Zack dove into the ocean and collided headfirst into a sandbar hidden in the waves. This single moment in Zack's life would first challenge him to his core and then eventually lead him to find his life's passion.
Working through years of physical therapy and with the energetic support of his friends and loved ones, Zack not only persevered but excelled. In the spring of 2018, Zack graduated with a Bachelor's degree in Human Services from Cal State Fullerton, then started a Master's degree program in counseling in the fall of that same year. With only one more semester left to earn his degree, Zack is eager to become a licensed therapist to serve and guide patients who, like himself, have dealt with life-changing injuries.
Since his injury, Zack has hosted a YouTube channel called "Quadlife with Zack" which offers advice on bridging the divide that people with spinal cord injuries face in their lives. In his videos, Zack reflects candidly on the everyday experiences of a quadriplegic individual - sometimes unexpected, sometimes frustrating - but for him, ultimately fulfilling. Through this engagement on social media, Zack has established himself as an inspiring mentor and exemplary role model, rapidly establishing himself as a young leader on the rise in the sphere of disability awareness.
Zack's perseverance and service to others have very positively contributed to the broader conversation on physical disabilities and injuries, and the need for support, accommodation and understanding from the able-bodied world. We're enthusiastically cheering Zack on as he finishes his Master's program, and we wish him the very best as he embarks upon the next steps in his journey toward becoming a licensed therapist. A slightly early (but very warranted and well-deserved) congratulations to Zack on his Master's degree!
Submit your nominations for Restaurant of the Month: https://airtable.com/shreBlAwjd2SPFIJs and Citizen of the Month:  https://airtable.com/shruzKflt1TVWpJVU

 
I'm lucky to have the privilege of serving you. As always, please let my office or me know how we may be of service.
To contact the member of my team responsible for your community, click on their name to send an email:
Below is a list of resources that may be helpful to you and your family:
988 Lifeline
As of July 16th, the number 988 has been designated as the new three-digit dialing code to route callers to the National Suicide Prevention Lifeline (now known as the 988 Suicide & Crisis Lifeline) and is now active across the United States. The hope is that the line will serve as a universal entry point so that no matter where someone is in the U.S., they can easily access 24/7 emotional support.
When people call, text, or chat 988, they'll be connected to trained counselors who are part of the existing Lifeline network. Counselors will listen, understand how callers' problems are affecting them, provide support, and connect callers' to resources if necessary.
The previous Lifeline phone number (1-800-273-8255) will continue to remain active and available.

 
WIC Farmers Market Program
While supplies last, California WIC families may obtain checks worth $30 (three checks worth $10 each) to buy produce at WIC-certified farmer's markets. The WIC Farmers Market Program is an annual program funded by USDA.
Participating farmer's markets in or near our area include:
Fullerton Community Farmer's Market (340 W Commonwealth Ave, Fullerton, 92832) Wednesday 9:30 a.m. - 12 p.m.
West Covina Farmer's Market (195 S Glendora Ave, West Covina, 91790) Saturday 9 a.m. - 12 p.m.
Pomona Valley Community Farmer's Market (Pearl St & Garey Ave, Pomona, 91767) Saturday 9 a.m. - 12 p.m.
Cerritos Community Farmer's Market (Cerritos Towne Center, Cerritos, 90703) Saturday 8 a.m. - 11 a.m.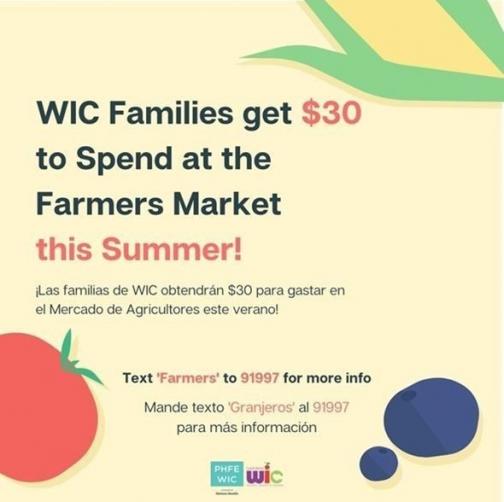 Splash Pads
Heat advisory warnings are abounding this summer. You and your family can keep cool by visiting a splash pad in our area.
LA County:
Pathfinder Community Regional Park (18150 Pathfinder R., Rowland Heights, CA 91748)
Carolyn Rosas Park (18500 E. Farjardo St, Rowland Heights, CA 91748)
Orange County:
Central Park Village Central Park (471 Atlas St, Brea, CA 92821)
Larwin Park (6150 Ball Rd, Buena Park, CA 90620)
Lemon Park Spray Pool (701 S Lemon St, Fullerton, CA 92832)
Adlena Park (300 N Adlena Dr, Fullerton, CA 92833)
Valencia Park Wading Pool (2425 W Valencia Dr, Fullerton, CA 92833)
Harry M Dotson Park (10350 Fern Ave, Stanton, CA 90680)
Stanton Central Park and Splash Pad (10660 Western Ave, Stanton, CA 90680)
Brio Park Splash Pad (300 S Euclid St, La Habra, CA 90631)
Oeste Park Splash Pad (2300 W Lambert Rd, La Habra, CA 90631)
San Bernardino County:
The Shoppes at Chino Hills Interactive Fountain (13920 City Center Dr, Chino Hills, CA 91709)
CalFresh Restaurant Meals Program
The CalFresh Restaurant Meals Program (RMP) allows qualified low-income residents the option of using CalFresh food benefits to purchase meals at approved participating restaurant vendors. RMP is a state-wide program run in all 58 counties in California.
Eligibility for the RMP includes people who receive CalFresh Food benefits and are:
An adult aged 60 or older
A person with a disability
The spouse of an individual who belongs to one of the above categories, or
A person experiencing homelessness
For more information on the program, and to search for participating vendors, please visit https://www.cdss.ca.gov/rmp.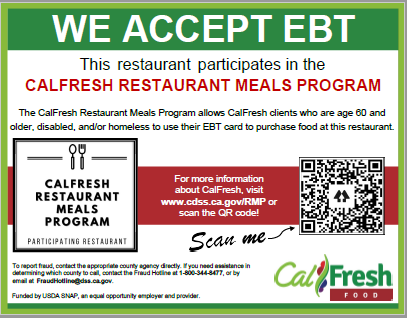 CalFresh RMP offers restaurant owners and vendors the opportunity to participate and support the community while increasing revenue. Owners or vendors interested in partnering may visit https://www.cdss.ca.gov/rmp/partners for instructions on applying. Orange County is recruiting local restaurants to participate. For more information, please click here.
Free Summer Meals
Students or children in need of healthy meals during the summer may find summer meal programs run by local schools or community groups. T o find a program near you, click here. You also may text "FOOD" to 304304.