Newsletter
Senator Newman's December 2022 Newsletter
Dear Friends and Neighbors,
It appears that the holiday season is now in full force, and whichever holiday(s) you and your family celebrate, I hope that all your celebrations are filled with joy and time well spent.
One nice thing that the holidays signify is that election season— which seems to have lasted forever— is finally behind us. As you may be aware, because a State Senate term is for four years, only half of the Senate's 40 seats come up for a vote each election cycle (as opposed to the State Assembly and the House of Representatives, whose members all serve two-year terms and therefore have to run every cycle). As a state senator representing an odd-numbered district, I will continue to represent the SD-29 to which I was elected in 2020.
So, congratulations to all of the newly elected officials in our area. I look forward to working with all of them, irrespective of party affiliation, in the belief that even if partisan politics seeks to divide us, hopefully, a shared commitment to public service will bind us just a little closer to serve all of our diverse constituents to the best of our collective abilities. That's always been my approach, and it will continue to remain the case for as long as I have the privilege of serving you. Secondly, thank you to all of the other candidates who stood for election. Even if your efforts weren't successful this time around, you can still take pride in offering your vision and your service to voters in what is still, despite our recent frictions and challenges, the greatest and most open democratic system in the world.
Having said all that, and given some of the questions my office and I are receiving, it seems like as good a time as any to address some of the confusion that seems to have arisen out of the recent state redistricting process.
First, a (very) brief overview of the redistricting process: every ten years, under the provisions of Article 1, Section 2 of the United States Constitution, the federal government conducts a census of America's population. The data collected is used in a number of ways, including adjusting the boundaries for electoral districts of all kinds to account for changes in population since the previous census. In 2008, California's voters approved Proposition 11, which took the process of redrawing political lines out of the hands of the Legislature and placed it with an independent California Citizens Redistricting Commission (for more information on the process and its background, you can visit the Secretary of State's dedicated webpage).
As a consequence of the work of the Commission coming out of the 2020 census, the boundaries of virtually all of California's state senate and assembly districts were altered in various ways. As a resident of one of the 16 cities which falls all or in part within the boundaries of the current Senate District (SD) 29, here's what you should know:
As in past years, when the Commission redraws lines, all of the districts are re-numbered at the end of that process, first from north to south and then left to right. As a result, some cities may wind up in re-numbered districts where the district number remains the same, and some will be in re-numbered districts where the district number is completely different.
Even-numbered senate districts just had their first elections under the new districting scheme, so people who won those elections were just sworn in this December to represent those new districts. On the other hand, newly redrawn odd-numbered senate districts won't activate until after the 2024 election cycle. Until then, the old numbers remain in effect, even where there may be overlap with an even-numbered district.
In the case of SD-29, there are five instances where newly redrawn even-numbered districts have been overlaid on top of the old, 2012 post-census borders. Those districts include SD-22 (which now includes the portion of West Covina that was in the old SD-29); SD-30 (which now includes the communities of Diamond Bar, Walnut, Rowland Heights, City of Industry and Brea); SD-32 (which now includes the cities of Chino Hills and Yorba Linda); SD-34 (which now includes the city of La Habra and parts of Fullerton and Anaheim that are in the old SD-29); and SD-36 (which now includes the cities of Stanton and Cypress and the portion of Buena Park that was in the old SD-29). This can be a strange and confusing circumstance for people who may not follow politics for a living, I know.
Also in the case of SD-29, there's another, newly drawn version of SD-29 that will come into effect as part of the 2024 election cycle. That SD-29 is actually a whole different district, which encompasses cities in the Inland Empire like Rialto and Colton, and doesn't overlap at all with the lines for the current/old SD-29.
Where does that leave me, you may be asking. It's a reasonable question. My house in the city of Fullerton, which is basically in the center of the current/old SD-29, now sits in the portion of Fullerton which, along with the City of Placentia, will become part of the re-drawn version of Senate District 37 in the next election cycle. What it actually means is that I will continue to represent you and your family through the end of 2024, when the new odd-numbered district lines go into effect. Up until then, you can continue to count on me and call on my office for the same brand of responsive, non-partisan representation and constituent support that we are very proud to provide to every resident of SD-29.
So there you have it. If you made it through all of that, you're now among the better-informed people when it comes to redistricting—as I said, it's confusing.
As always, if I may be of assistance, please don't hesitate to contact my office at 714-525-2342 or https://sd29.senate.ca.gov/contact.
All the best from my family to yours this holiday season,
Josh Newman
Senator, 29th District
Back to Sacramento
Monday, December 5th marked the first official day of the 2023-2024 legislative session and saw the swearing-in of all newly elected members of the State Senate and Assembly. In the Senate, that means all of the members of even-numbered districts were either sworn in for the first time if they were newly elected, or re-sworn in if they won re-election. Of the twenty senators sworn in on the 5th, ten are new members, and I'm glad to welcome them and look forward to serving with each of them.
The next order of business at the start of the next session is the assignment to Senate legislative committees. I'm still awaiting word on mine and will include that as an update in next month's newsletter. As it relates to prospective legislation and other policy initiatives, my team and I are exploring a number of concepts and talking to a wide range of partners as we work toward finalizing my legislative package for the upcoming year. More to come on that in next month's newsletter as well.
Worth a Listen
Since the completion of the most recent legislative session in the fall, I've had the opportunity to participate in a number of podcasts and other interviews. I have had the opportunity to discuss my background, policy perspectives and plans for the upcoming session. If you've got some free time, or an especially long drive ahead of you, feel free to check out some of them by clicking on the following episodes: SacTown Talks, Less is More Education and North Orange County ChamberTalk.
Honoring our Armed Forces
November 11th is Veterans Day, an opportunity for all of us to pause and reflect on the meaning of service and appropriately honor all of the brave men and women who have done their part in the defense of the American people and our democratic institutions. You can read about some of the moving ceremonies we attended in our "staff highlights" section.
On November 30th, I was pleased to have the honor of standing alongside a group of proud veteran advocates, community leaders and legislative colleagues for the ceremonial raising of "Flag One," a 30-by-60-foot American flag atop a 100-foot flagpole at Gypsum Canyon, which will be the eventual site for Orange County's own dedicated veterans' cemetery.
The flag-raising was also the culmination of a heroic effort, over the course of a decade, to reach a consensus and secure local and state support for an appropriate eventual resting place for vets who want to be buried near their families in OC. An immense amount of credit is due to my colleague, Assemblymember Sharon Quirk-Silva, for her indefatigable efforts and unshakeable resolve in leading the legislative effort that ultimately took the form of AB 1595, signed by the Governor in October, which officially commits the state to build a veterans cemetery in Orange County.
Supporting Assemblymember Quirk-Silva over the course of that long and often contentious fight were a group of OC veterans which included Nick Berardino, Bill Cook, Steve Spriggs, Bobby McDonald and others, whose advocacy and energy was essential in the passage of the legislation. I'd like to thank OC Supervisor Don Wagner and his team for hosting this moving ceremony, as well as all of the other folks who made it such a success.
An Exciting District Initiative to Fund Entrepreneurship
On November 9th, I joined community leaders in business and education to celebrate the launch of NorthSTAR OC Collaborative, an exciting new initiative led by RevHubOC and its partners. Supported by the $8.5 million I secured in the most recent state budget, the NorthSTAR OC Collaborative will ensure that talented people in some of our most under-resourced communities will have access to a seat at the entrepreneurial table.
Through business training, mentorship programs, access to investment capital and more, NorthSTAR OC will offer support for aspiring entrepreneurs and start-ups in North Orange County which have demonstrated potential for success. Congratulations to Tim Shaw and the rest of the RevHub team on this exciting new initiative, which includes the North Orange County Community College among its founding partners. I'm looking forward to continuing to work alongside these talented, committed people as they establish Orange County as an epicenter of social entrepreneurship.
Honoring the "Giving" in Thanksgiving
The holiday season can be a financially stressful time, and I'd like to offer my thanks to the many wonderful service providers throughout Southern California who, each year, ensure that as many of our neighbors in need as possible enjoy a delicious Thanksgiving dinner.
On November 20th, I had the pleasure of partnering once again with OC Supervisor Chaffee and United Across Borders Foundation for their Fourth Annual Thanksgiving Turkey Giveaway and Resource Fair. Over 500 families received boxes of groceries, $25 vouchers from Northgate Market, and other community resources to help them enjoy a happy Thanksgiving holiday. In continuation of what has become an annual tradition, we provided the "Better Senator" ice cream truck and contributed some delicious ice cream as part of the early holiday cheer.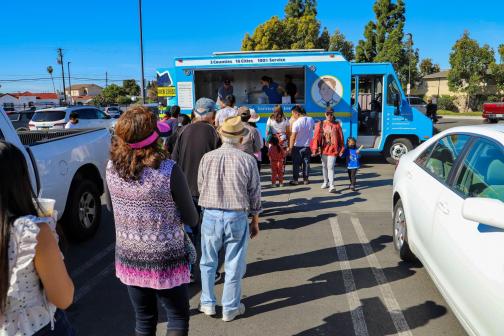 On November 21st, my office joined Suburban Water Systems for their 32nd annual "Operation Gobble" holiday turkey giveaway, at which we helped distribute a hundred frozen turkeys to local non-profits. It was a pleasure to once again be able to join with Suburban Water Systems staff and their partner organizations, including the Boys and Girls Club of Buena Park, Walnut Valley Unified School District, Red Dragon Karate and local Kiwanis and Knights of Columbus chapters, to coordinate the distribution.
We're always grateful for the opportunity to partner every year with the local community and non-profit organizations to serve our neighbors in need, and we look forward to working together again next year.
A Fun Approach to Making Sense of Dollars and Cents
Economic reasoning influences so many of the choices we make every day, yet money and finances can too often seem stressful and intimidating. On November 28th, in partnership with Cal State Fullerton's Center for Economic Education and the California Council on Economic Education, my office hosted a "Family Financial Fun Night" at Adelaide Price Elementary School in Anaheim.
Over the course of the evening, more than 45 AESD students and their parents participated in an engaging series of interactive lessons to gain practical insight into basic economic concepts ranging from budgeting to bargain hunting to differentiating between "needs" and "wants."
 A big thanks to Alan Garduño, who served as the event's moderator; to Radha Bhattacharya of CSUF's Center for Economic Education; to Steve Sherline and Denise Gutierrez of California Council on Economic Education; and to Adelaide Price's principal, Dr. Monica Munguia Valencia, and Dayana Morales, for enabling a very enjoyable and edifying event for all of the students and families who participated.
COTM
Congratulations to Laura Gil-Trejo, our November Citizen of the Month!
Across two decades of service at California State University, Fullerton's Social Science Research Center, Laura has played an integral role in ensuring progress in better understanding and serving the public interest within the 29th Senate District and beyond. Through her masterful development and analysis of sociological research, Laura has helped to inform complex decisions, enhance the performance of our public institutions and set apart Cal State Fullerton as a leading university.
The OC Register recently profiled the instrumental work of Laura and the SSRC in enabling the accountability and success of the North of Orange County Public Safety Collaborative. Under her leadership, the SSRC has spearheaded a data-driven evaluation of the dozens of homeless outreach and service organizations involved in the Collaborative. That research has developed critical metrics through which the Collaborative has tracked its progress and identified further areas of service optimization.
Thank you, Laura, for your many positive contributions to our community. We wish you the very best as you continue to serve as an exemplary leader.
ROTM
Over the last four decades, Señor Big Ed in Cypress has been a local favorite for authentic, home-style Puerto Rican fare. It was my privilege to be able to recognize Señor Big Ed as the 29th Senate District's "Restaurant of the Month" for the month of November.
From their early days staffing the kitchen to taking over the business in 2003, Yolanda, Javier and Veronica Coronado have remained dedicated to serving time-honored, traditional Puerto Rican staples while welcoming their loyal customers with an inviting and welcoming spirit. We had a chance to enjoy a delicious Puerto Rican lunchtime feast while watching the World Cup, and it wasn't hard to see, surrounded by the smells of rich pasteles and crispy tostones, why so many locals think of Señor Big Ed as a cozy home away from home.
If you get a hankering for a tasty, heaping plate of mofongo relleno with arroz congandules, save yourself the airfare to Puerto Rico and visit Señor Big Ed at 5490 Lincoln Ave, Cypress, CA 90630.
Submit your nominations for Restaurant of the Month here and Citizen of the Month here.
From Erica Lucia, District Director:
"To kick off the month of December, I had the privilege of attending the 13th Annual Southern California Economic Summit hosted by SCAG (Southern California Association of Governments). SCAG is the largest metropolitan planning organization in the country, representing 191 cities in six counties - including all three of SD-29's counties. A variety of information-rich topics were covered, which included an economic update on the region, a review of the resources that set SoCal apart and our region's housing needs. My key takeaway: an influx of federal and state funding opportunities are coming to the SoCal region that will result in major investments in infrastructure and workforce development."
From Sheen Sidhu, serving the cities of Buena Park, Brea, and Yorba Linda:
"On November 11th, I had the honor of attending Brea's Veterans Day Ceremony which honored veterans, retired and active-duty members and Brea residents who made the ultimate sacrifice for their country. This year's ceremony marked the tenth anniversary of the Brea War Memorial, which displays the names of all Brea residents who dedicated their lives in service to the United States going back to World War I. The ceremony featured keynote speaker and Purple Heart recipient Staff Sergeant Devin Clarke, who described some of his darkest moments and remarked that he would not have been able to overcome them without the support of his fellow servicemen. Staff Sergeant Clarke's speech underscored the importance of developing robust programs and services to support our veterans and service members."
From Brandon Wong, serving the cities of Diamond Bar, Industry, Walnut, and Rowland Heights:
"As we break out the sweaters, reconnect with loved ones, and collectively realize that turkey is really rather dry, it's nice to reflect upon the achievements of the past year and how they prepare us for the next. This month, I had the incredible honor of joining the residents of Walnut in giving thanks to retiring Councilmember Bob Pacheco. Bob has served Walnut from City Hall to Sacramento and back for nearly three decades, so it was a privilege to thank him for his tireless service during the groundbreaking of one of his final projects --the new Diversity Plaza at Creekside Park which is equipped with beautiful picnic areas and a splash pad."
From Scott Do, serving the cities of Fullerton, La Habra, and Stanton:
"On November 11th, I joined Stanton City Council at the nationally recognized Stanton Veterans Memorial Park to honor the members of our armed forces at their annual celebration. Through my participation in this ceremony, I came away having learned about the work of the former veterans on the council who conceptualized Memorial Park and were able to see it through as a result of their commitment and forward vision. As we head into the holiday season, I hold gratitude for the service members in our district and beyond who answered the call to serve and defend our freedoms."

From Nathan Bass, serving the cities of Anaheim, Chino Hills, and Placentia:
"As Senator Newman's local representative for higher education, I routinely have the opportunity to engage with the numerous colleges, universities and trade schools across the 29th Senate District. In these engagements, I am continually impressed by the many programs and initiatives undertaken by these institutions to prepare our students for successful careers in emerging and growing industries. On November 17th, I attended the launch of one such impressive program: Fullerton College Drone Lab's "Drone Piloting Apprenticeship." The first official drone apprenticeship of its kind in California, this program will help students to obtain certifications necessary for drone piloting, as well as connect students with quality employment opportunities in drone aviation."

From Elizabeth Lavezzari, serving the cities of Cypress, La Palma, and West Covina:
"On November 11th, I had the honor of joining the City of West Covina in their Veterans Day Ceremony. It was a pleasure to spend the morning paying tribute to the sacrifices and contributions of veterans in our community. The ceremony featured three outstanding speakers who shared their stories of service with those in attendance. Our office had the opportunity to recognize the accomplishments of these individuals and thank the many veterans in attendance for their service. Wishing everyone a safe and happy holiday season!"
 
I'm very fortunate to have the privilege of serving you. As always, please let my staff or me know how we may be of service.
To contact the member of my team responsible for your community, click on their name to send an email:
STATEWIDE:
CA State Controller's Property Tax Postponement Program
The State Controller's Office's (SCO) Property Tax Postponement (PTP) Program allows homeowners who are seniors, blind or have a disability to apply to defer payment of property taxes on their principal residence. The applicant must own the home, occupy it as their primary residence, and meet several other requirements.
Applications may be filed with SCO beginning October 1st. For details, visit www.ptp.sco.ca.gov or call (800) 952-5661.

LOCAL:

Grants for LA Senior Home Owners
The Los Angeles County Development Authority just launched the Senior Grant Program which provides grants (up to $15,000) for mobility and habitability repairs to eligible low-income seniors in Supervisorial Districts 1, 2, 4 and 5. Seniors interested in applying for the Program must be homeowners over 62 years old, low-income and must own their own home.
Examples of modifications include wheelchair ramps, grab bars, widened doorways, non-slip floor covering or tub to roll-in shower conversion. Additionally, the program will finance deferred maintenance repairs such as roofing, plumbing, electrical or heating that are necessary to improve the structural integrity of the home and prolong the home's useful age.
Learn more here.

LA Childcare Providers Recovery Grant

If you are a childcare provider working in LA County, you may be eligible to receive between $15,000 and $80,000 for your childcare business. The application period opened on November 15th and will stay open until February 14th, 2023. To learn more, click here.