Newsletter
Senator Newman's January 2023 Newsletter
Dear Friends and Neighbors,
Not only is it a new year, but here in California, it's also the start of a two-year legislative session. This means I'm back to splitting my time between the State Capitol and my home in Fullerton.
During the legislative recess, I enjoyed spending time with my family and taking part in meetings and events across the 29th Senate District, which focused on everything from homelessness to K-12 education, to celebrating local leaders and small businesses. I'm excited to now be back in Sacramento for another productive year serving you. In reflecting on the past year, my team and I brainstormed some of our top successes from 2022 and organized them into a digital flip book. You can click on the image below to check it out.
There's a lot to look forward to, this month and this year, and my staff and I will do our very best to keep you fully up to date with all of the latest information on my legislative package, the state budget, district events, and resources benefiting you and your family in our upcoming newsletters.
Here's to a very happy and healthy 2023.
As always, if I may be of assistance, please don't hesitate to contact my office at 714-525-2342 or https://sd29.senate.ca.gov/contact.
All the best,
Josh Newman
Senator, 29th District
New Year, New Laws
In 2022, nearly 1,000 bills were signed into law, most of which took effect on January 1, 2023. Many of these are unlikely to impact you on a day-to-day basis, however, I wanted to share a few that are most likely to affect your family or business.
Minimum Wage Increase: SB 3 (2016) raises the minimum wage in California to $15.50 an hour.
Passing Bicyclists: AB 1909 requires drivers to change lanes before passing a cyclist if another lane is available.
Pay Transparency: SB 1162 requires employers to make salary ranges for available job positions to applicants and employees.
Free Prison Phone Calls: SB 1008 provides cost-free access to telephone calls for people detained in California prisons and jails.
Jaywalking: AB 2147 allows pedestrians to cross streets away from the intersection without being ticketed, as long as it's safe to do so.
"Pink Tax": AB 1287 prohibits gender-based pricing on products based on who they're marketed for.
Paid Family Leave: SB 951 increases leave benefits for lower- and middle-income employees to cover more of their regular income when they take time off to care for family and loved ones.
It can be challenging to keep track of new laws, so please don't hesitate to contact my office with questions about these or other new laws that recently took effect.
Legislative Committee Assignments
At the start of every two-year session, the Senate President pro Tempore assigns each senator to serve on a number of committees and selects the chairperson of each committee.
I'm pleased to share that in the upcoming 2023-24 Legislative Session, I will be chairing the Senate Committee on Education, which oversees an array of education issues, from early childhood and K-12 through higher education. I'm very honored to have been entrusted with the responsibility of providing direction and oversight on some of the pressing issues facing California.
Having served for the past two years as Chair of the Senate's Special Committee on Pandemic Emergency Response, I've observed firsthand the challenges posed by the pandemic and seen how pre-existing problems, such as infrastructure, compounded these new problems. As Education Chair, I plan to focus my attention on providing students with urgently needed mental health services, restoring and modernizing our school campuses, re-engaging our students in civic education, and ensuring that every California family has access to the highest-quality education possible.
Additionally, I am looking forward to also serving as a member on the following committees and collaborating with my colleagues on making meaningful advancements on fiscal policy, electoral reform, alternative energy, and transportation in the coming legislative session.
Budget and Fiscal Review
Elections and Constitutional Amendments
Energy, Utilities and Communications
Transportation
Budget Subcommittee #5 (Corrections, Public Safety, Judiciary, Labor and Transportation)
Joint Committee on Rules
For more information on my 2023-24 committee assignments, you can visit my website.
 City Council Rotations
As 2022 came to a close, city councils throughout the 29th Senate District met to swear in their newly elected members and reorganize leadership for the new terms. My office proudly took part in recognizing all the individual city council members who served as mayor over the past year and honoring those who retired from their seats.
Congratulations to all of the newly elected council members across the district. I look forward to continuing working with each of the city councils in the district in 2023 to build upon the outstanding accomplishments and improvements spearheaded by local leaders over the past year.
Sunburst Youth Academy Commencement Ceremony
On December 8th, I joined other local elected officials at Mariners Church in Irvine in attending Sunburst Youth Academy's Class 30 commencement ceremony. Now in its 15th year, the Sunburst program, which is partially funded by the North Orange County Public Safety Collaborative, helps at-risk youth get back on track and realize their full potential through a course of rigorous academics and a quasi-military curriculum. Before the commencement ceremony, I had the pleasure of speaking with cadets who had just graduated and had benefited immensely from the program. Their sentiments were echoed by some excellent student speakers during the ceremony, and it was a genuine thrill to feel the sense of pride and accomplishment radiating off both students and educators in the room.
I've been privileged to attend each Sunburst Youth Academy commencement ceremony over the past two years and look forward to attending again next year. Thank you to Lieutenant Colonel Gilbert Sanchez, Program Director; Principal Dinah Ismail; Assistant Superintendent Vern Burton; and Academy staff, educators and parents for guiding these students to success.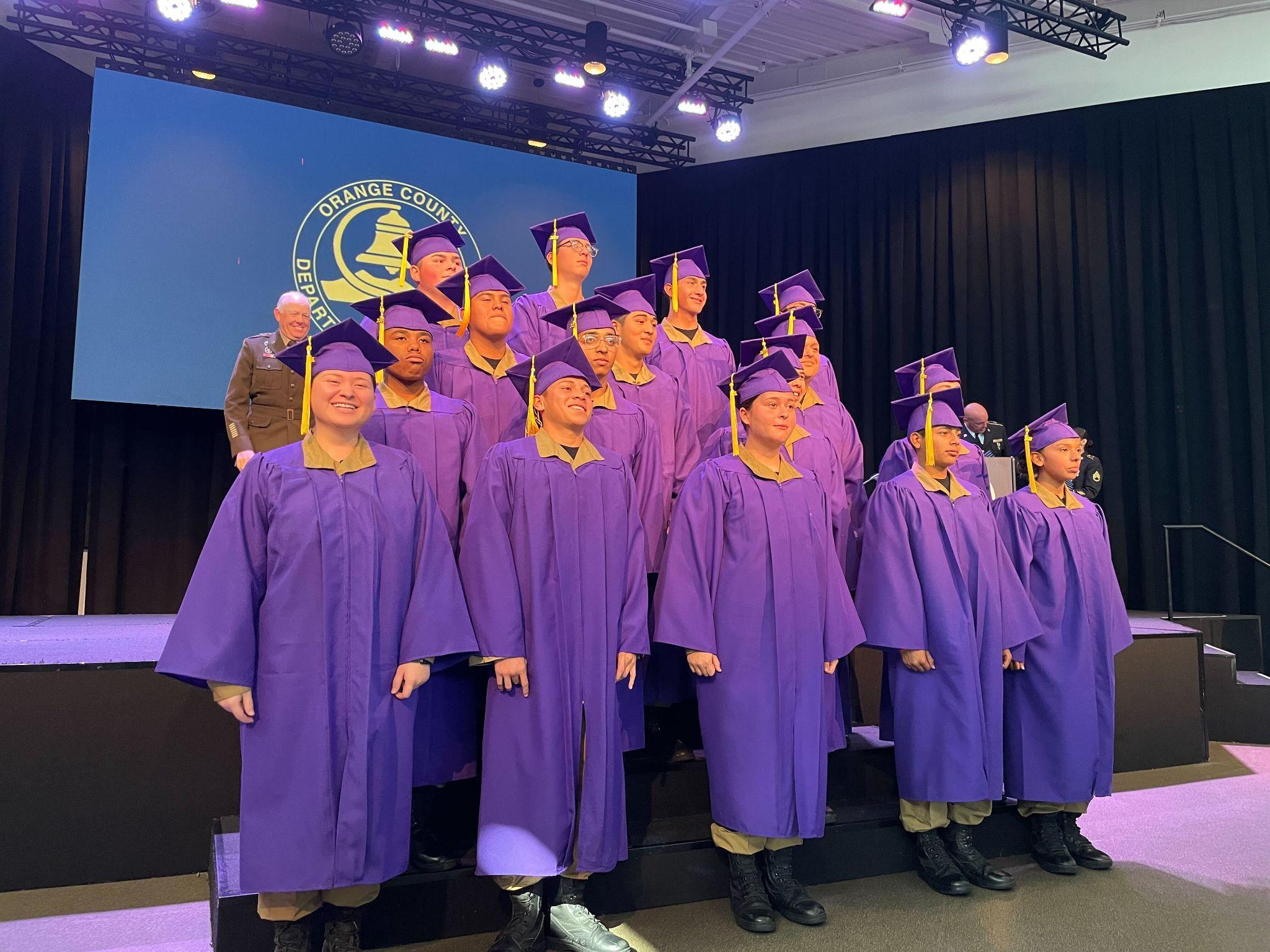 Touring Covenant House
In December I had the opportunity to tour and learn about Covenant House in Anaheim, the only youth homeless shelter in Orange County. The shelter, part of a greater statewide network of youth shelters operated by Covenant House California, currently houses twenty young people and provides essential resources to support their transition into permanent housing. By offering sanctuary and support to young people experiencing homelessness, Covenant House strives to prevent the progression into chronic homelessness.
A grateful thank you to Covenant House's William Bedrossian and Polly Williams for the engaging tour, and for their work to support students experiencing unstable and inadequate living situations.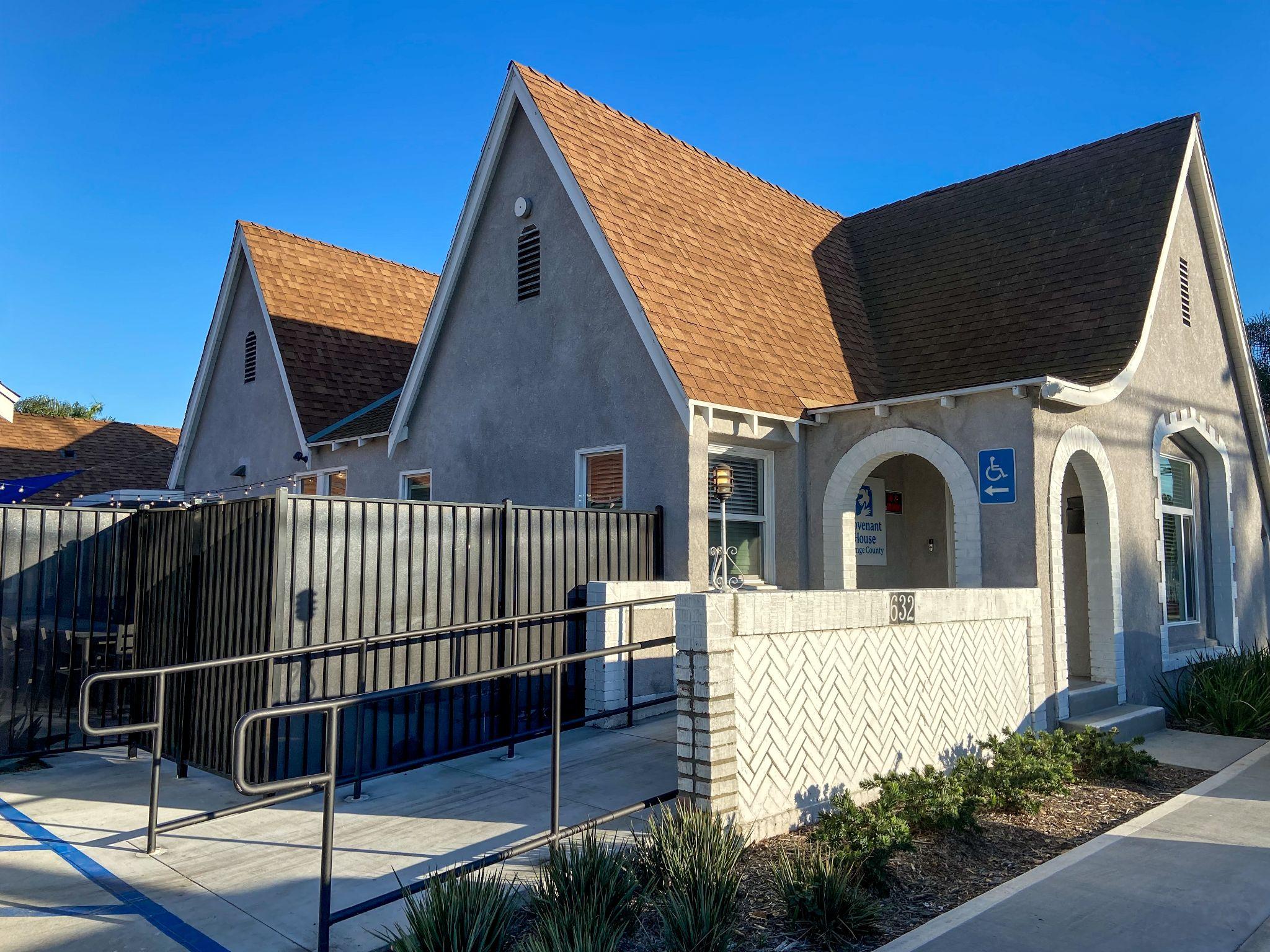 Holiday Food Distribution
On December 10th, I co-hosted a holiday food distribution event, in partnership with the United Across Borders Foundation, Assemblymember Sharon Quirk-Silva, OC Supervisor Doug Chaffee and the City of Buena Park at Ehler's Event Center. Over the course of the morning, we served more than 500 families and provided them with groceries, toys, COVID tests, and, of course, ice cream sandwiches.
It's more than worth reinforcing that it's through the tireless work of cities and community organizations like United Across Borders that families across the district are connected with much-needed assistance. I want to thank all of our community partners for participating and for making the distribution event a great success. I also want to extend my sincere appreciation to United Across Borders Foundation's Erika Robles (with whom my office has worked with many times over the years) for her unyielding commitment and tireless effort at providing support for families in need throughout the year.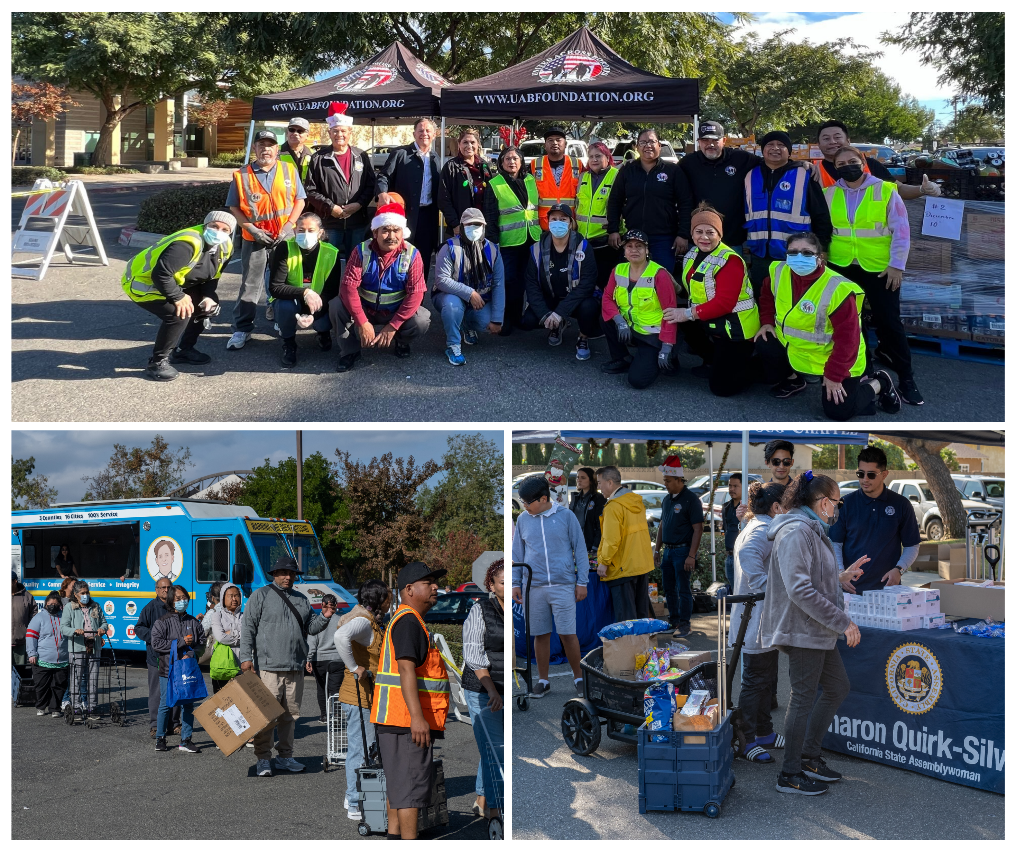 "Making Spirits Bright" Toy Drive
Every year, the Diamond Bar Woman's Club organizes their annual "Making Spirits Bright" Toy Drive to benefit the military families of the 29 Palms Marine Corps base in San Bernardino County. It's a truly special holiday tradition in Diamond Bar, and I was honored to have been part of this wonderful effort again this year. On December 10th, I joined club members, Diamond Bar City Council members, and other local community leaders and supporters to celebrate another successful season of giving with over 1,000 toys donated.
Thank you to Lee and Amy Mao, and to Sonja Reed of the Diamond Bar Woman's Club, for organizing this year's toy drive and bringing so much holiday cheer to military families in the region.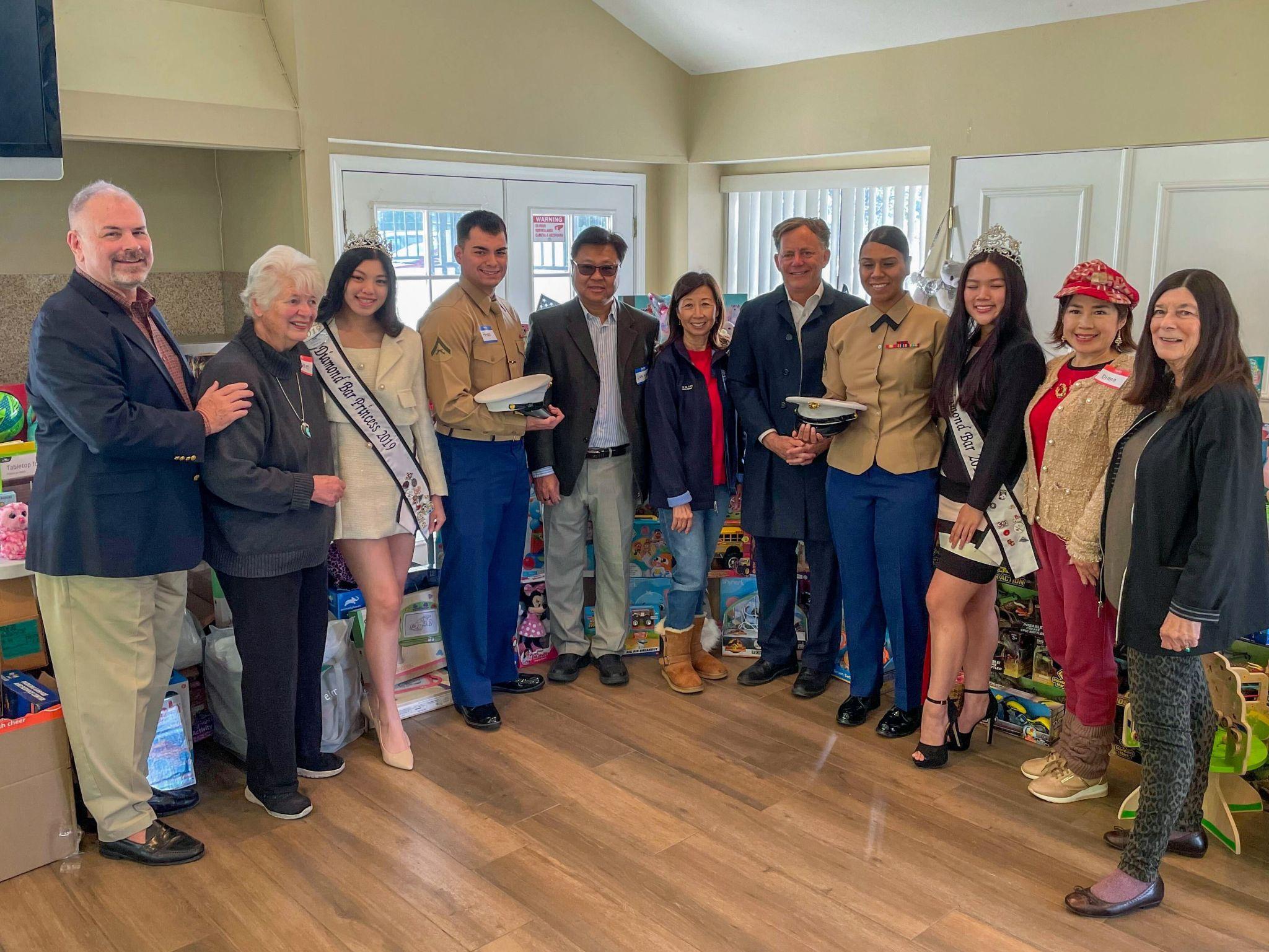 Citizen of the Month
Congratulations to Dr. Brady Heiner, our December Citizen of the Month.
As the founding Executive Director of Project Rebound at CSU Fullerton, Dr. Heiner has helped to connect hundreds of students with critical educational resources following an incarceration experience. Through his impassioned efforts to cultivate the academic, social and professional successes of formerly incarcerated students, Dr. Heiner has firmly established himself as an inspirational leader and mentor in our community and across the entire statewide Project Rebound Consortium.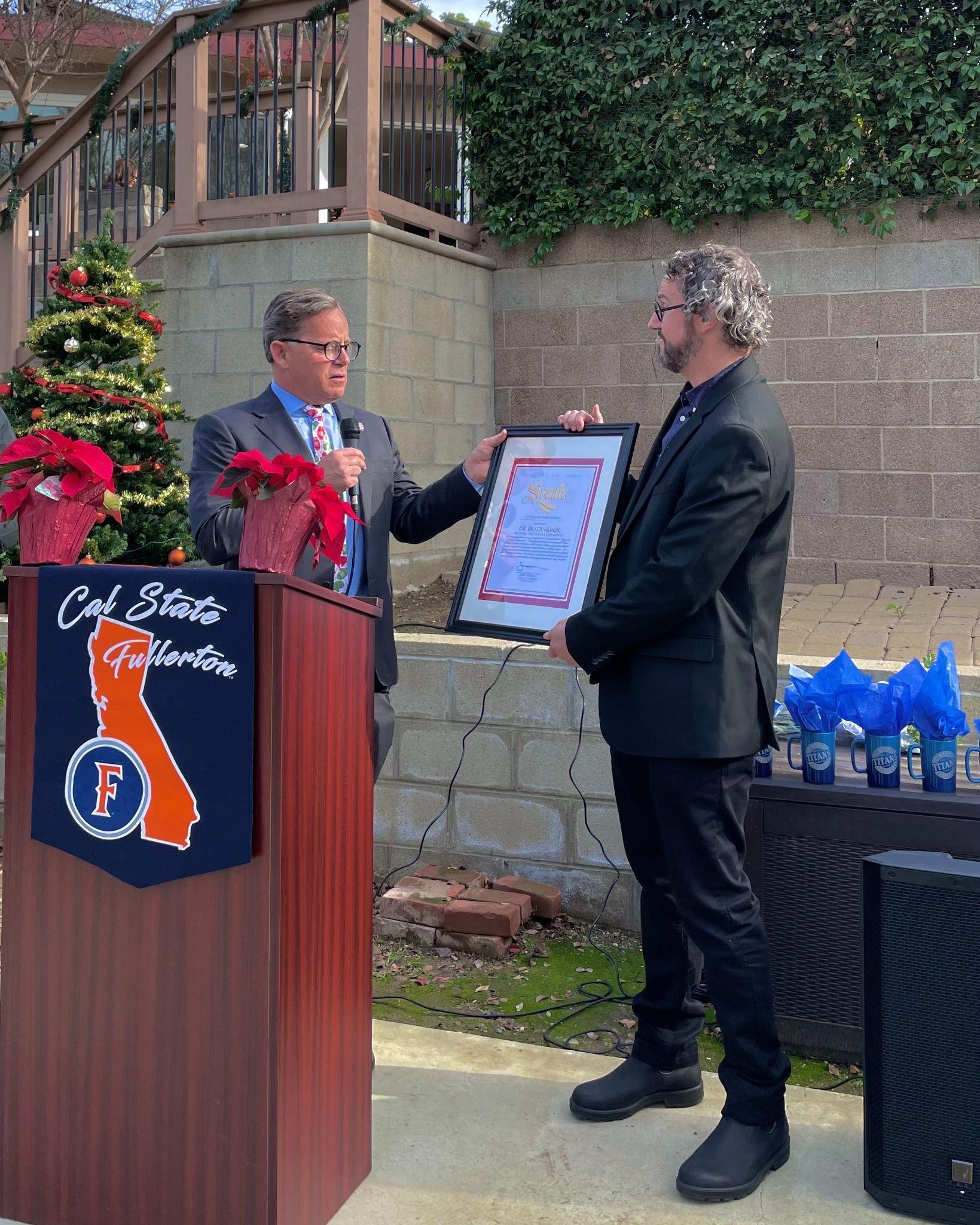 If this is the first time you're hearing about Project Rebound, I invite you to learn more here. This program empowers students across 14 CSU campuses to go on to graduate programs, enter the workforce and live responsible, meaningful lives. It's worth noting that Project Rebound boasts an impressive 0% recidivism rate among its students— those that enroll in this program do not recommit criminal offenses.
Congratulations to Dr. Heiner on this well-deserved honor, and thank you for your continued leadership— our state is better off for your contributions.
Restaurant of the Month
We are excited to honor Irrawaddy Taste of Burma as our December Restaurant of the Month.
Since opening as Orange County's first authentic Burmese eatery in 2016, Irrawaddy Taste of Burma has offered residents an opportunity to sample the many rich and diverse flavors of Burmese cuisine. While the flavors are reminiscent of your favorite Indian, Thai and Chinese staples, they uniquely combine to offer a distinct taste unfamiliar to most Southern Californians. Prepared with traditional cooking techniques by co-owner and chef, Banny Hong, newcomers will enjoy the uniqueness of the dishes prepared with traditional cooking techniques.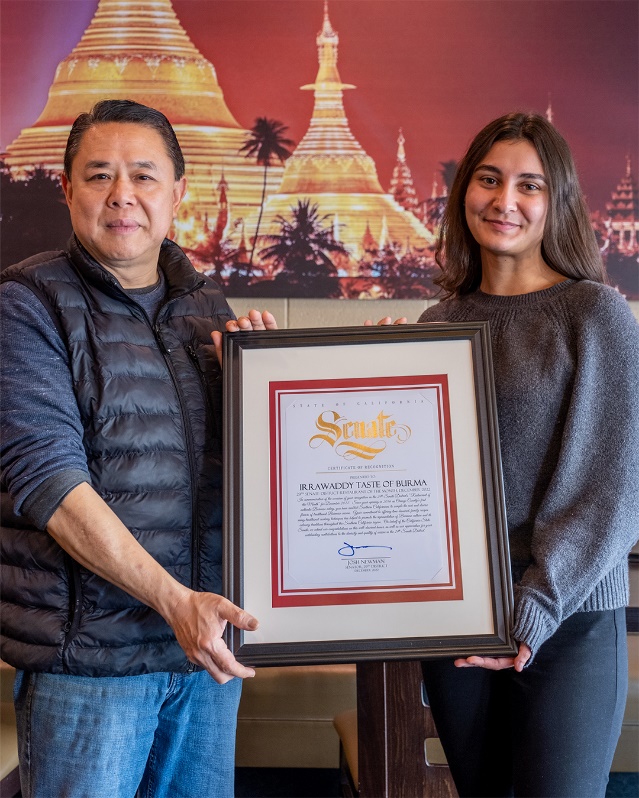 Banny; co-owner, Fred Phan; and the entire team at Irrawaddy are to be commended for their outstanding work in and out of the kitchen as ambassadors of Burmese culture. Their contributions have helped to cement Burmese cuisine within our region.
I'm not actually a big salad person, but trust me when I say you need to try the tea leaf salad. Irrawaddy Taste of Burma can be found at 7076 Katella Ave Stanton, CA 90680.
From Erica Lucia, District Director:
"On December 20th, I had the opportunity to listen in on a roundtable discussion and series of presentations by scientific and public policy experts on the topic of devising solutions for coastal erosion and beach loss in Orange County. Assemblywoman Cottie Petrie-Norris convened this panel of experts in partnership with the University of California, Irvine. Pictured here are Senator Newman and two of his Assembly colleagues (Asm. Petrie-Norris and Asm. Dixon), as well as three Deans from UC Irvine."
From Sheen Sidhu, serving the cities of Buena Park, Brea, and Yorba Linda:
"In December, I had the privilege of attending the Tri-City Podcast Program Teen Night hosted by the Boys & Girls Club of Buena Park. Teens from the Boys & Girls Clubs of Fullerton and Anaheim-Cypress joined forces with their Buena Park teammates to record podcast episodes and partake in an evening of fun activities. I enjoyed a behind-the-scenes look at the teens recording their podcasts and I'm excited to listen to their next episode. An incredible amount of research and preparation goes into producing an episode and these teens are up to the task. Keep up the great work!"
From Brandon Wong, serving the cities of Diamond Bar, Industry, Walnut, and Rowland Heights:
"I love classic Christmas trees – that is until I saw what they were setting up in Diamond Bar for the holidays. In December, I had the pleasure of ringing in the holiday season at the inaugural Windmill Lighting Ceremony in Diamond Bar. Located at the corner of Diamond Bar Boulevard and Grand Avenue, the historic 30-foot-windmill dates back to the area's early 20th-century ranch era, when it pumped water about 200 feet south of where it stands today. Huge thanks to the City and the Diamond Bar Community Foundation for their creativity in organizing this festive new community tradition. In other news – as we wrap up 2022 and move into the new year, I'm excited for the opportunity to transition from our District team to our Capitol office as Senator Newman's newest Legislative Aide. While I won't be able to see you all around town anymore, I look forward to continuing to serve the communities of the lower San Gabriel Valley, and all of our residents across the 29th Senate District, in Sacramento."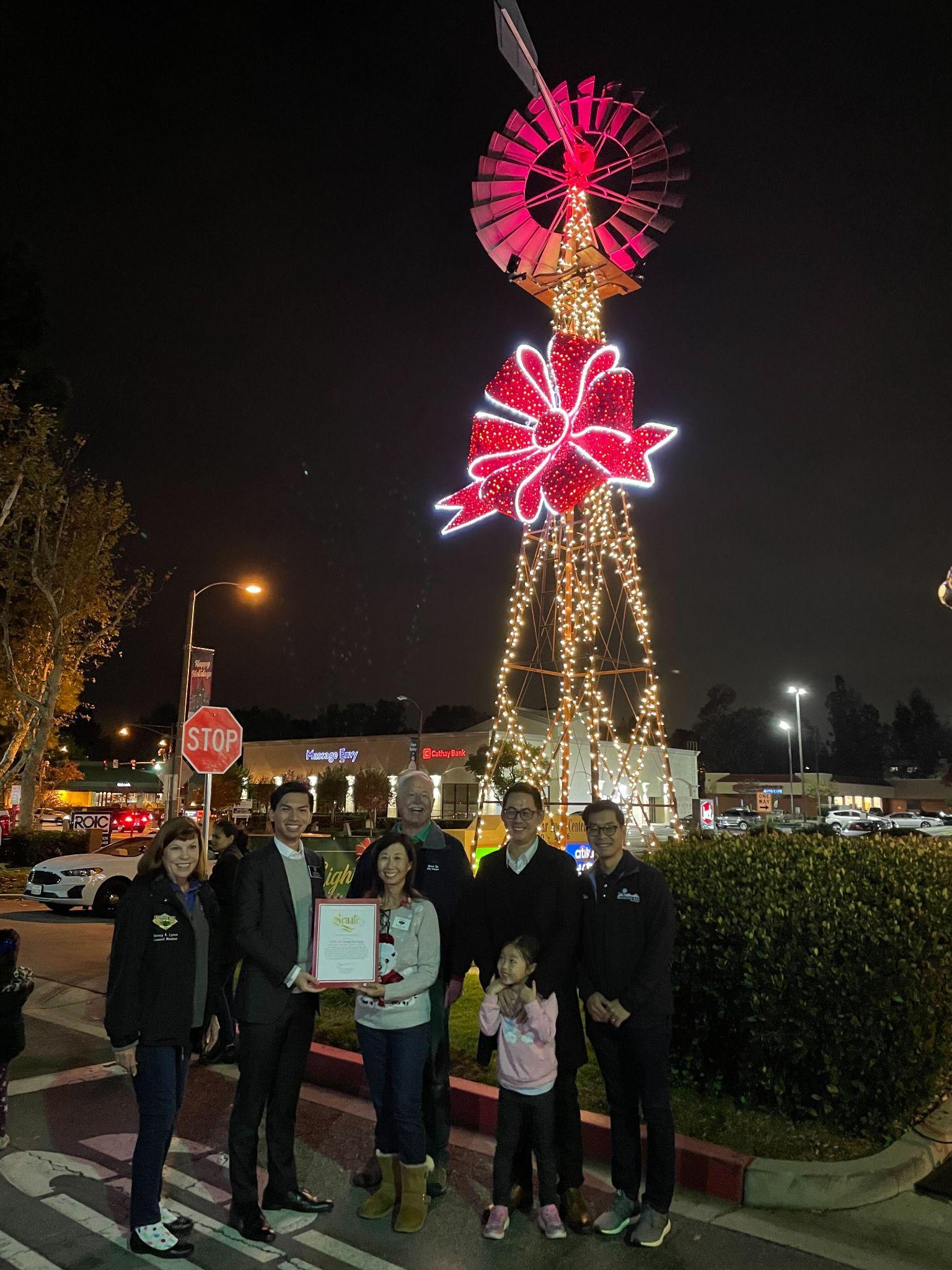 From Scott Do, serving the cities of Fullerton, La Habra, and Stanton:
"On December 1st, I had the pleasure of joining the city council, staff and residents of Stanton for their annual tree lighting ceremony. It was incredibly heartwarming to see people of all ages and different walks of life come together to celebrate the holiday season with this time-honored community tradition. Between the choir, cultural displays and seeing Santa ride into town on a firetruck, my fondest memory of this event will always be the moment the city let me flip the ceremonial tree lighting lever. Not officially, of course, because that is Santa's time to shine. Happy holidays, and see you in the new year!"

From Nathan Bass, serving the cities of Anaheim, Chino Hills, and Placentia:
"Hello, Friends and Neighbors - I am pleased to share with you my experience at the Fall 2022 Commissioning Ceremony for the Titan Battalion at Cal State Fullerton. Dignified by their tack-sharp military bearing, ROTC cadets Mark J. Cuozzo and Eric Huynh were the sole honorees of a uniquely intimate commissioning ceremony on December 16th. Although clocked in olive green uniforms that bear the rich history and traditions of the U.S. Army, the cadets received their commission with a newfound determination to make a difference in the world. Cuozzo and Huynh each recited the Oath of Commissioned Officers with absolute conviction as they accepted their new duties as second lieutenants. At the end of one year and the beginning of another, this experience inspired me to reflect on my own commitment to public service and look forward to the opportunities that await in the times to come. Happy New Year!"

From Elizabeth Lavezzari, serving the cities of Cypress, La Palma, and West Covina:
"On December 1st, our office joined the North Orange County Community College District at Fullerton College for their Carnival BBQ event to celebrate a successful fall semester and the Investiture of NOCCCD Chancellor, Dr. Breland. The quad was full of students, faculty and staff enjoying an afternoon of music, games, food and of course, ice cream. I enjoyed speaking to students and other campus community members about their semesters and issues that are important to them. It was great to join NOCCCD at the Investiture Ceremony later that week to formally install Dr. Breland as Chancellor. Our office looks forward to continuing our rewarding partnership with NOCCCD in providing excellence in academics and opportunities for students at our local community colleges."
I'm very fortunate to have the privilege of serving you. As always, please let my staff or me know how we may be of service.
To contact the member of my team responsible for your community, click on their name to send an email:
STATEWIDE:
CA State Controller's Property Tax Postponement Program
The State Controller's Office's (SCO) Property Tax Postponement (PTP) Program allows homeowners who are seniors, blind or have a disability to apply to defer payment of property taxes on their principal residence. The applicant must own the home, occupy it as their primary residence, and meet several other requirements.
Applications may be filed with SCO beginning October 1st. For details, visit www.ptp.sco.ca.gov or call (800) 952-5661.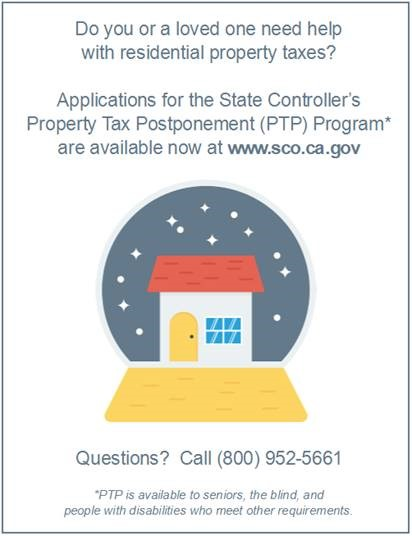 LOCAL:
Financial Fitness Bootcamp
Optimize your business for financial success with the Small Business Development Center's Financial Fitness Bootcamp!
As a business owner, having a solid grasp of your accounting and finance can be critical to expanding your business. Join SBDC in this free 4-part series where they'll discuss the importance of cash flow, using key financial ratios, managing your finances, the fundamentals of business credit and much more.
Date and Time: Wednesdays, January 11 - February 1 | 9 AM
Register here.
Economic Opportunity Grants
LA County small and microbusinesses (less than $2 million in revenue) and non-profits (less than $5 million in revenue) impacted by COVID-19 may qualify for financial relief to support their post-pandemic recovery. 
The Economic Opportunity Grants (EOG) program offers $60+ million for grants, technical assistance, and other County services to help businesses stabilize and grow. Grants will be available starting in January 2023.
Learn more at bit.ly/EOGrants.
Grants for LA Senior Homeowners
The Los Angeles County Development Authority just launched the Senior Grant Program which provides grants (up to $15,000) for mobility and habitability repairs to eligible low-income seniors in Supervisorial Districts 1, 2, 4 and 5. Seniors interested in applying for the Program must be homeowners over 62 years old, low-income and must own their own home.
Examples of modifications include wheelchair ramps, grab bars, widened doorways, non-slip floor covering or tub to roll-in shower conversion. Additionally, the program will finance deferred maintenance repairs such as roofing, plumbing, electrical or heating that are necessary to improve the structural integrity of the home and prolong the home's useful age.
Learn more here.
LA Childcare Providers Recovery Grant
If you are a childcare provider working in LA County, you may be eligible to receive between $15,000 and $80,000 for your childcare business. The application will be open from Tuesday, November 15th to February 14th, 2023. Learn more here.