Newsletter
Senator Newman's July 2022 Newsletter
Dear Friend and Neighbor,
Like so many others in the district and across the state and nation, I'm deeply saddened and angered by the recent Supreme Court ruling overturning Roe v. Wade, the landmark decision that 50 years ago established a constitutional right to abortion in the United States.
This decision is both a direct attack on women's rights in America and proof of the continued politicization of our courts. I'm struck by the irony that the same voices that continually cite the Founding Fathers in support of their interpretations of the law and visions for the courts don't seem to notice or care that the politicization of the courts—and, in fact, the insertion of intense partisanship into virtually every corner of American life—is precisely the opposite of what the Founding Fathers had in mind.
We know that the impact of denying women access to family planning services, while criminalizing the provision of health care, will fall hardest on Americans already facing daunting barriers to accessing abortion and other forms of critical care. Many states are proceeding with haste in their efforts to make abortion illegal. In some states abortion already is illegal in the wake of the recent court decision, the result of so-called "trigger laws." As disconcerting as this development is, we should remember that in California abortion is and will continue to be safe, legal and accessible. To find a provider near you, visit AbortionFinder.org.
Across both houses of the state Legislature, and in concert with the Governor and Attorney General, we have been working on a package of legislation to protect and expand access to abortion in the Golden State, work that was started in preparation for this devastating and destabilizing Supreme Court ruling. As we wrapped our legislative work prior to the summer recess, among the legislation we passed was Senate Constitutional Amendment 10, which, if passed by the voters, will enshrine the right to abortion in California's constitution. This proposed constitutional amendment will appear on the ballot this November as Proposition 1.
As always, if I may be of assistance, please don't hesitate to contact my office at 714-525-2342 or https://sd29.senate.ca.gov/contact.
All the best,
Josh Newman
Senator, 29th District    
   
All Bills Moved Out of Policy Committees
Over the past month, in preparation for the summer recess, legislators voted on hundreds of bills in policy committees. I'm very pleased to share that all 14 of my bills continue to move in the process.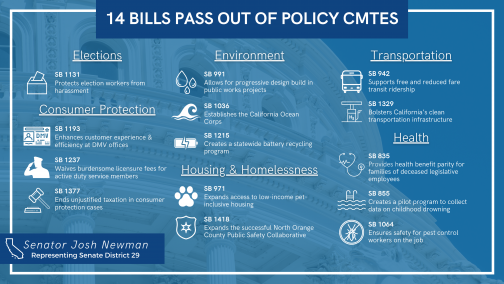 For the month of July, as legislative business pauses during the summer recess, I'm back home in the district. When legislators return to Sacramento in August, we'll have just 31 days to cast our final votes on more than 2,000 bills as we strive to ensure that our respective proposals reach Governor Gavin Newsom's desk for signature into law. I'm proud of the work that we've done, as well as happy to be home for a little extended time in the district. I plan to be active in the community, as well as enjoy time with my wife and our six-year-old daughter, along with our four poorly behaved but otherwise lovable rescue Chihuahuas.
For a complete list of my bills for the year, please visit my website by clicking here.
Budget Act of 2022-23 Passed and Signed into Law
Before we adjourned for the summer recess, the Legislature passed the Budget Act of 2022, in partnership with Governor Newsom. Among other things, this $300 billion budget—the largest state budget in the history of the United States— provides direct relief to businesses and families and makes strong investments in programs that help our most vulnerable communities. The final budget agreement also allows for critical investments in infrastructure, climate, housing, reproductive healthcare and K-12 and higher education. You may find a summary of the 2022-23 California State Budget here.
I am also excited to share that I had a direct role in securing nearly $100 million in vital investments for our community to expand education and workforce development opportunities, bolster regional solutions to public safety issues and homelessness, support local entrepreneurs, expand wraparound health and human services and address local infrastructure needs, to include:
$67.5 million in funding for the renovation and expansion of CSUF's College of Engineering & Computer Science.
$8 million to support the continuation of the groundbreaking work being done by the 11-city North Orange County Public Safety Collaborative to get at the root causes of homelessness, youth violence, and post-incarceration re-entry.
$5 million for the buildout of Access California's new facility in Anaheim, which will allow them to expand their array of services for some of our region's most vulnerable families.
$8.5 million to repair and reinforce a collapsed storm channel system in the City of La Habra.
$8.5 million for seed funding for RevHub, a cutting-edge social entrepreneurship initiative designed to coalesce and support Orange County's robust social enterprise ecosystem for greater innovation and impact.
You may read more about the details of these budget allocations in my recent press release.
Celebrating our Non-Profit of the Year
Every June, the Legislature celebrates the work of the thousands of wonderful nonprofits throughout the state for their countless contributions and dedication to our communities. As part of that commitment, every legislator has the privilege of highlighting a "Non-Profit of the Year" in our respective districts.
This year, I was pleased to honor a truly wonderful local nonprofit called Lot318.
Over the past decade, the awesome team at Lot318, under the leadership of Letty Gali and her board, has been working diligently to reduce youth violence and gang recruitment among Placentia youth by providing community-based services and programs. On June 8th, in celebration of California Non-Profits Day, our honorees flew to the Capitol for a luncheon.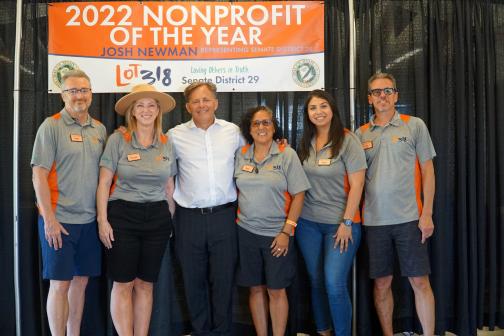 Marching in OC Pride Parade
June is Pride Month, during which we recognize and celebrate LGTBQ+ culture and the diverse and positive contributions of the LGTBQ+ community. After a pandemic-induced two-year hiatus, on June 25th we were thrilled to join a vibrant gathering of LGTBQ+ community members and allies to march in the OC Pride Parade in Santa Ana. A cheerful California grizzly bear even came out of hibernation to celebrate this festive and joyous occasion with us.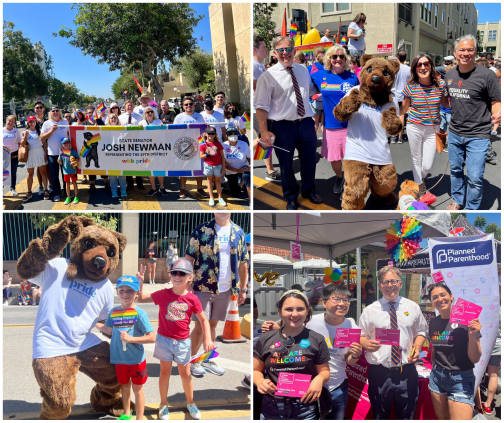 My Office is at Your Service
My team is here to help! If you're having trouble resolving an issue with any state agency, please call my office at 714-525-2342, and my staff and I will do everything in our power to assist. We've helped constituents with nearly everything brought to us, including but not limited to:
Consumer complaints
Department of Motor Vehicles
Medi-Cal and Covered California
Professional conduct or licensing complaints
State taxes
Unemployment and disability insurance
Veterans' benefits
To contact the member of my team with responsibility for your community, simply click on their name to send an email:

I'm guessing that you've never had the chance to experience a massive, Mexico City-style "machete quesadilla." Well, now you may.
This June, I was pleased to honor Anaheim-based Fuego Maiz as the 29th Senate District's "Restaurant of the Month." Fuego Maiz opened earlier this year and is a remake of the family's previous restaurant, Fonda Mixcoac, which closed during the pandemic after six years of operation. The family's newest restaurant has rapidly established itself as a premier local destination for fresh and authentic Mexico City-style extra-long machete quesadillas and other delicious, made-from-scratch offerings. Some other local favorites off the menu include the shrimp taquitos, the parillada, and the pork belly bites.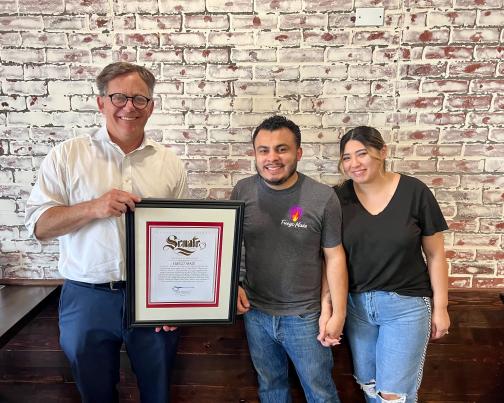 Congratulations to Alejandro and Belen Villegas on this exciting (and delicious) new endeavor. We wish you nothing but continued success!
Fuego Maiz is located at 10660 Magnolia Ave., Anaheim, 92804.
For June, we honored not one but two outstanding community members.
Our first honoree was Mario Ortega, the CEO of ABRAZAR, a local non-profit which offers limited-income seniors programs to improve their health, nutrition, socialization and financial self-sufficiency. Since the mid-1970s, ABRAZAR has been meeting the needs of low-income seniors and families across Orange County. Last year, the program served over 4,000 seniors.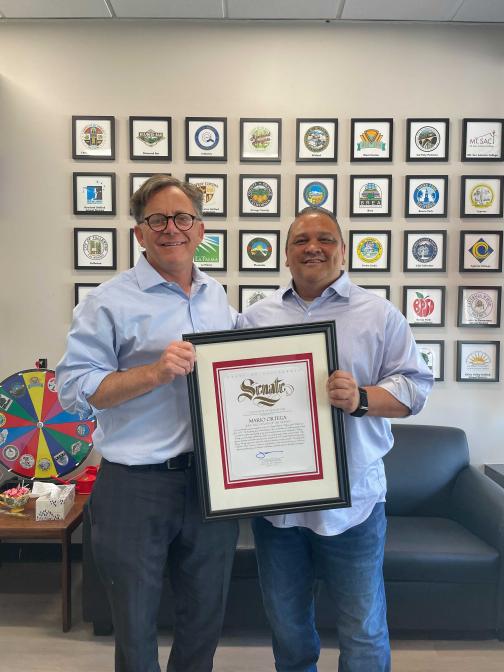 Our second honoree for June was Isabella Rubio, a local LGBTQ+ rights advocate and a passionate leader in SD-29. Isabella works to empower marginalized communities by creating an accessible, inclusive and safe environment.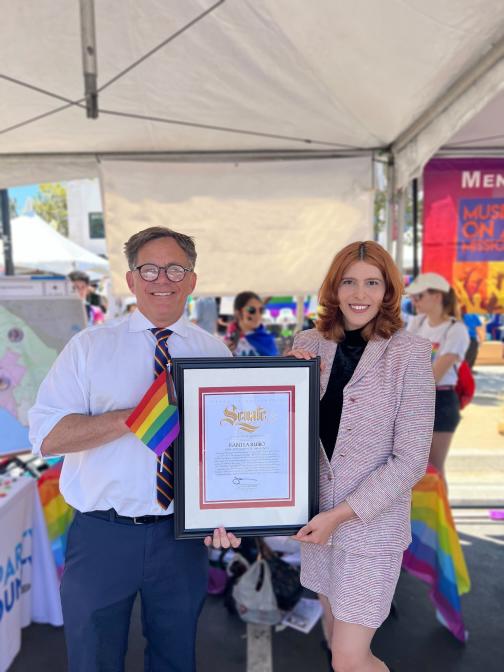 Congratulations to Mario and Isabella on this well-deserved honor, and thank you both for your invaluable contributions and positive impact in the community.
Submit your nominations for Restaurant of the Month: https://airtable.com/shreBlAwjd2SPFIJs and Citizen of the Month: https://airtable.com/shruzKflt1TVWpJVU
I'm lucky to have the privilege of serving you. As always, please let my office or me know if we may be of service. Below is a list of resources that may be helpful to you and your family:
UPCOMING EVENT: Blood Drive in Santa Ana
On Saturday, July 16th, the American Red Cross and the Orange County chapter of the California Nurse Practitioners are hosting a blood drive in the City of Santa Ana to help alleviate the dire need for blood donations in Southern California. Register today to donate.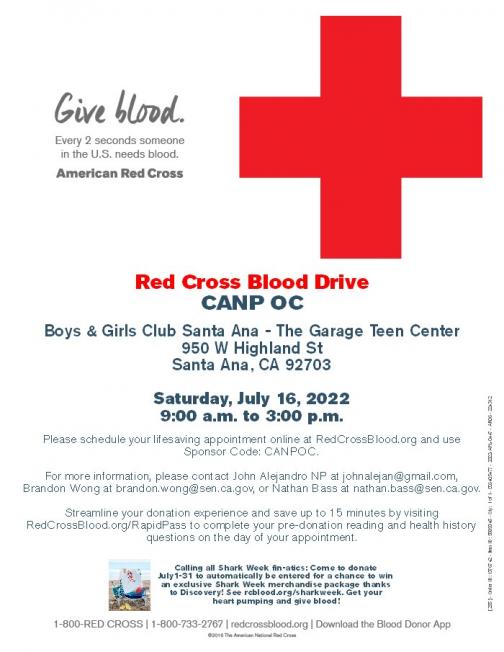 COVID Vaccines for Kids Five and Younger
More protection is accessible for our youngest Californians. COVID-19 vaccines are available for kids six months and older and may help to keep the whole family safer from serious illness and hospitalization.
Schedule your child's vaccination today.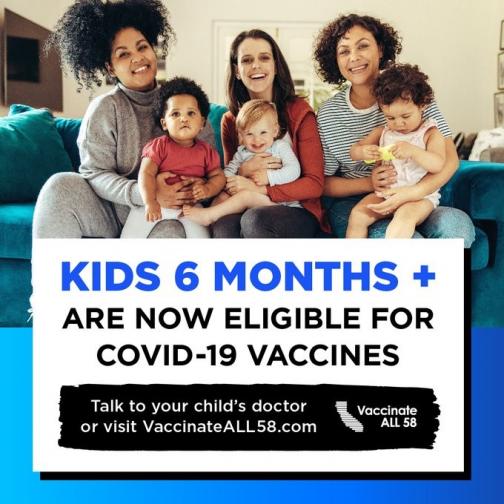 Visit State Parks for FREE
In partnership with the California State Library system, California state parks are allowing holders of public library cards to check out vehicle day-use passes for more than 200 participating state parks. The California State Library Parks Pass is valid for the entry of one passenger vehicle with a capacity of nine people or fewer or one highway-licensed motorcycle.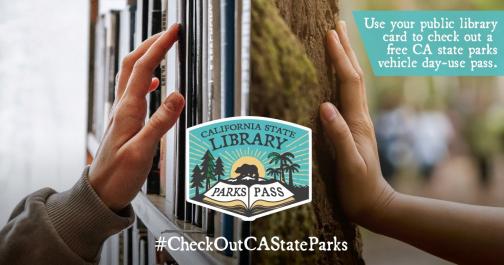 View an interactive map of California's public libraries and nearby participating state parks.
https://www.caloptima.org/en/Features/CalFresh.aspx