Newsletter
Senator Newman's November 2022 Newsletter
Dear Friend and Neighbor,
The month of November brings an opportunity for self reflection and gratitude. As I have said many times before, even in this very newsletter, I am grateful every single day that I have the opportunity to serve as your State Senator. Our wonderful community is chock-full of unique eateries, lively festivities and neighbors from all corners of the world. There is truly no greater honor than to serve you in the State Senate.
This holiday is not only a time to give thanks but a time to give back. As we take time to gather with friends and family, we cannot forget our neighbors who may not have the resources to do the same.
I am proud to be partnering with Orange County Supervisor Doug Chaffee for his Fourth Annual Thanksgiving Turkey Giveaway and Resource Fair on Sunday, November 20th from 11 AM - 2 PM. We'll be giving away a $25 food voucher (for meat, bread or produce at Northgate Market), along with a box of groceries for each family on a first-come, first-served basis. Residents will also receive access to a variety of resources from community-based organizations. It is recommended that you bring a cart, as this is a walk-up event.
 
As always, if I may be of assistance, please don't hesitate to contact my office at 714-525-2342 or https://sd29.senate.ca.gov/contact.
Josh Newman
Senator, 29th District
The months of October and November feel a bit like a legislative sweet spot; the constitutional deadline for bills to be signed or vetoed has passed, and the swearing-in of a new class of senators and assemblymembers is just around the corner. It serves as an excellent chance for my Capitol team to bury their heads in research and dig into the issues facing our state. Top of mind for our policy research this fall is developing incentives for clean transportation, improving the transparency and integrity of our electoral processes and creating consumer-friendly recycling solutions. Next month, when I head back to Sacramento to welcome my new colleagues, I plan to introduce a number of my top priorities for this legislative session.
Making California a Hydrogen Hub
If you have ever heard me talk about transportation issues or seen me pull up to an event in my Toyota Mirai, then you probably know that I am a dedicated believer in the promise of hydrogen fuel technology.
To reach our zero-emission targets, Californians will need more than one option in the types of alternative fuel vehicles they can drive. This is especially true for those who live in places without easy access to electric chargers, who have long-distance commutes, or whose transit patterns require rapid re-fueling.
On October 6th, I was pleased to join the Governor's Office of Business and Economic Development (GO-Biz) and a robust coalition of advocates to announce California's efforts to secure federal funding for a hydrogen hub. This funding was made available under President Biden's Bipartisan Infrastructure Law, which sets aside $8 billion in funding for the development of six to ten hydrogen hubs across the nation.
California is well prepared and positioned to host a federal hydrogen hub, which will be critical to our efforts to reach a carbon neutral economy. I will keep you posted on the progress of this exciting funding opportunity.
Grand Opening of the HOPE Center
It was an honor to welcome Governor Gavin Newsom to Orange County on October 27th and have him join us for the grand opening of the HOPE (Homeless Outreach and Prevention Engagement) Center. As part of the North Orange County Public Safety Collaborative, this facility will serve as a unified resource center and dispatch hub for homeless liaison officers to quickly and effectively respond to people experiencing homelessness in the community.
The Collaborative is paving the way to solving homelessness, and as Governor Newsom said during his visit, it has proven itself as a successful model that should be replicated. I look forward to the meaningful results that this next exciting phase of the Collaborative will bring.
You can read more about the opening of the HOPE Center in our press release.
Haunted Health Fair
Preventive care and vaccines are some of the best ways to stay healthy during the holiday season. On Saturday, October 29th, my office partnered with local healthcare providers to host a Haunted Health Fair in Anaheim. Children and their families went trick-or-treating between resource tables and even brushed up on their CPR skills. Attendees received free eye screenings, COVID bivalent vaccines, flu shots and blood pressure checks.
 
Huge thank you to our community healthcare partners who made this event possible: Walgreens, CalOptima Health, California Nurse Practitioners Association, Harm Reduction Institute, UC Irvine's Gavin Herbert Eye Institute and pharmacy students from Chapman University who administered vaccines. And finally, thank you to our host, Salk Elementary, for going above and beyond the call of duty to have everything set up for our health fair.
Touring HIS-OC
On October 3rd, I met with Director Carrie Buck for a meeting and tour of Homeless Intervention Services of Orange County, or HIS-OC. HIS-OC provides long-term shelter and supportive services to help families achieve self-sufficiency and overcome homelessness. As a member of the Family Solutions Collaborative, which comprises 22 organizations in Orange County, HIS-OC provides resources for families with children, youth and college students, and at-risk individuals. Using a holistic and compassionate approach for their service, HIS-OC helps people set concrete goals and actions to find employment, pay off debt and continue their education as they transition into permanent housing.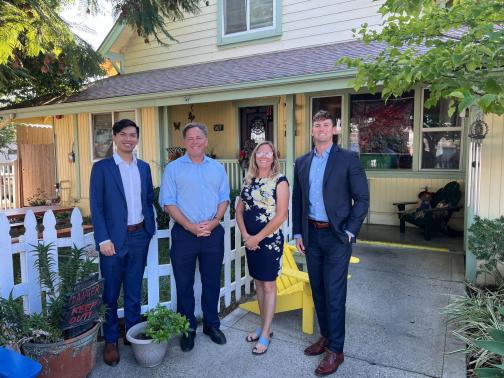 I also had the opportunity to tour the Transitional Housing Program's yellow house, where families reside, as well as HIS-OC's newer CHESS Program house, which provides transitional housing for young adult men while they pursue their education. Director Buck also shared with us information about HIS-OC's HomeShare OC program, which matches college students with homeowners who are able to rent a spare room for a school semester.
Placentia Heritage Festival
Guests attending the 57th Annual Placentia Heritage Festival and Parade on October 8th may have spotted me, Brandon, Elizabeth, or Scott passing out ice cream sandwiches from our signature "Better Senator" Ice Cream Truck. However, our ice cream was only a small part of the fun festivities that day. As the oldest community event in Placentia, attendees were treated to games, crafts, food, rides, a business expo, a car show and - best of all - a parade featuring the rich culture and heritage of Placentia. In addition, after a pandemic-induced absence, high school marching bands from across the region were back once more for a band review and participation in the Heritage Parade. Congratulations to Diamond Bar High School's Marching Band for winning first place.
This was our third time attending the Placentia Heritage Festival, and we can't wait to attend again next year. Kudos to all who made this wonderful event possible.
Visiting MOMS OC
Serving more than 2,940 families annually, MOMS Orange County is the region's largest nonprofit dedicated solely to newborn and pregnancy health. I was privileged to tour MOMS Orange County on October 11th to learn more about the services they provide.
 Since its establishment in 1992, MOMS Orange County has dedicated itself to providing mothers free access to prenatal care, health screenings, health education and referral services. It offers educational classes and in-home visitation services, and the facility includes a space for parent support groups, Mommy & Me classes, breastfeeding support and more. A side facility off its main building, affectionately called "Casita," is used to collect donations including diapers and car seats for families in need. While primarily accessible in Orange County, a transition to virtual resources during the pandemic has made it possible for MOMS Orange County to expand and reach families across a broader region.
Thank you to CEO David Lugo, Chief Program Officer Sarah O'Rourke, Chief Development Officer Andrea Pronk-Dunn and Philanthropy Manager Yazmin Dukes for this rich, informative tour.
Laurie Stoops is our "Citizen of the Month" for October. Like myself, Laurie lives in Fullerton, and I witnessed Laurie's sense of duty to serve a few weeks ago when I found two German shepherds abandoned with no identification tags or owners. Luckily, Laurie went out of her way to help me wrangle the dogs and ensured they received proper care and treatment through Orange County Animal Services. I am happy to report that these two sweet dogs are healthy and happy, and ready to be adopted as a pair by a loving family.
Laurie has played an important role as a leader, advocate and role model in our community through her involvement with special needs athletics. In addition to her tireless work as an Orange County probation officer, she also acts as a dedicated caregiver to her mother, brother and recently adopted daughter. Thank you, Laurie, for your leadership and civic engagement that help bolster the greater community of California's 29th Senate District.
 
Tempura with a side of horchata. Doesn't get more California than that.
 
This month, I had the pleasure of recognizing Corazon Taste of Mexico in Brea as the 29th  Senate District's "Restaurant of the Month." The son of restaurateurs, Fernando Romero opened Corazon in March of 2021 and quickly established it as a mainstay of Brea's dining scene.
With live music, a unique selection of custom craft beers from Baja California and imported wines from Mexico, Fernando takes great pride in serving up authentic Mexican staples with daring new twists. Fernando's playful takes on time-honored traditional recipes are at the core of what makes dining at Corazon such an eventful and memorable experience.
If you're ever in the mood to sample some of the best horchata in Orange County, you can visit Corazon at 120 S Brea Blvd Unit 106, Brea, CA 92821.
Submit your nominations for Restaurant of the Month here and Citizen of the Month here.
From Erica Lucia, District Director: "Nathan and I had the opportunity to tour UC Irvine's Jack and Shanaz Langson Institute and Museum of California Art. In addition to being a research institute and providing a host of public programming, Langson IMCA's collection includes 4,500 works depicting landscapes and lived experiences in the Golden State. While UC Irvine works to construct a permanent on-campus location for Langson IMCA, you can visit the museum's temporary home at 18881 Von Karman Avenue in Irvine, Tuesday through Saturday, from 10 a.m. to 4 p.m."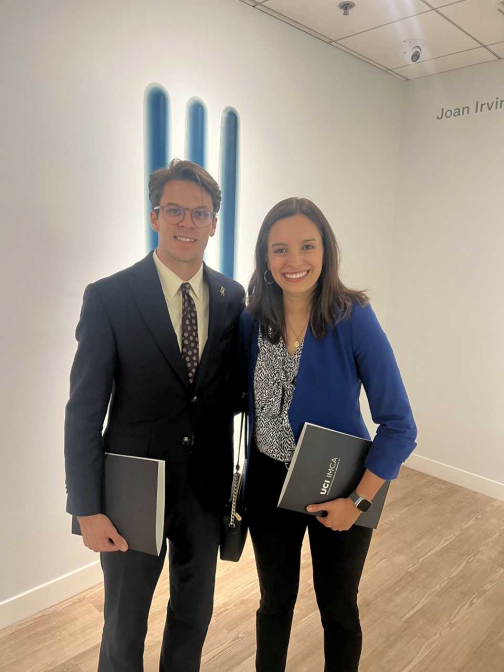 From Kasey Condon, formerly serving the cities of Buena Park, Brea, and Yorba Linda: "It is hard to believe October has ended and we are making the shift into November. I guess the saying is true - time flies when you're having fun. However, the move into November also brings with it some sad news: I will be transitioning out of my role in Senator Newman's District office and moving onto a new opportunity. Serving the constituents of California's 29th Senate District in an office of this caliber has been an honor, and I will cherish many memories from the past year. From handing out ice cream sandwiches in the "Better Senator" Ice Cream Truck to attending community events that showcase the diversity of our district, I have thoroughly enjoyed every opportunity I have had to interact and engage with so many of you. I am very grateful for the many insightful conversations and laughs along the way. I will take the lessons and experiences I have gained from the 29th Senate District and put them to good use as I continue my career in public service."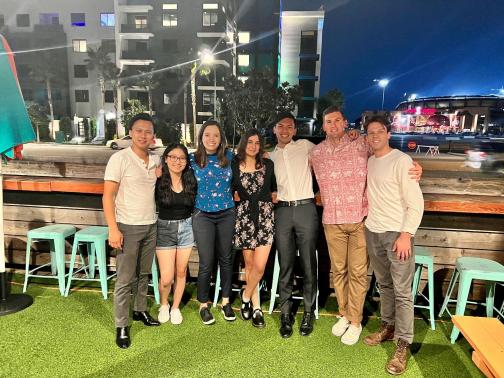 From Brandon Wong, serving the cities of Diamond Bar, Industry, Walnut, and Rowland Heights: "On October 11th, I had the incredible honor of joining the San Gabriel Valley LGBTQ+ Center in celebrating National Coming Out Day at their new location in the City of El Monte. Established in 2011, the SGV LGBTQ+ Center is dedicated to providing supportive services to LGBTQ residents and their families in pursuit of a diverse, safe and inclusive San Gabriel Valley. With the onset of the pandemic, the Center was forced to close its location in Arcadia and shift its peer support groups and services online. But thanks to the gracious efforts of our partners at the City of Industry, the City of El Monte and others, the Center was able to come out from behind their screens and into their amazing new home. Here's to building pride!"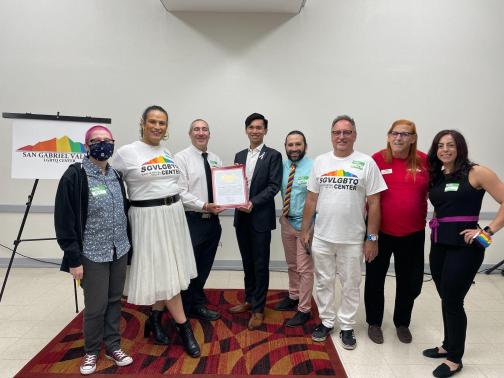 From Scott Do, serving the cities of Fullerton, La Habra, and Stanton: "On October 13th, I had the privilege of attending the dedication of Cruz Reynoso Hall at Fullerton College. As the first Chicano to ascend to the California Supreme Court, Cruz Reynoso demonstrated to many young people of color that they belonged in this country and that their dreams can become reality. I am grateful to Fullerton College for giving me the opportunity to attend this special dedication ceremony and learn about Reynoso's enduring legacy as an American civil rights lawyer, Associate Justice and educator."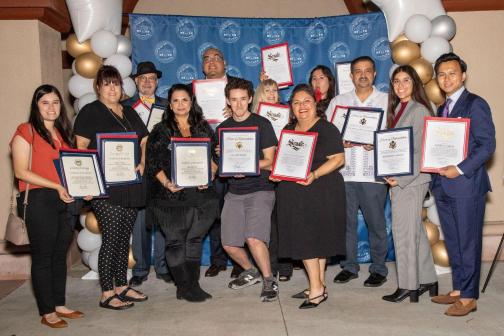 From Nathan Bass, serving the cities of Anaheim, Chino Hills, and Placentia: "On October 20th, I had the great pleasure of attending the Anaheim Family YMCA's Legacy Dinner. In celebration of 111 years of service to Anaheim, the event highlighted the more than century-long history of Anaheim Family YMCA and their deep involvement in the local community. I appreciated the opportunity to hear firsthand from my neighbors in Anaheim about the meaningful impact of the Anaheim YMCA Family, an organization with which our office has collaborated on several projects. The evening reminded me of the importance of a strong community network in achieving collective health and well-being."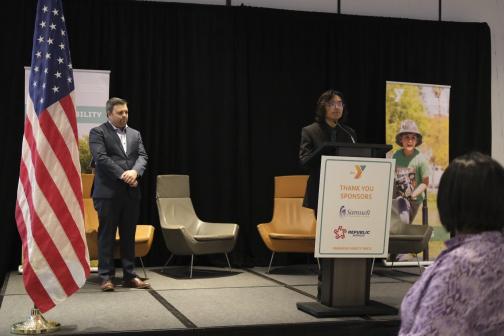 From Elizabeth Lavezzari, serving the cities of Cypress, La Palma, and West Covina: "On October 26th, I had the pleasure of attending the 8th Annual Cypress Women's Conference hosted by the Woman's Club of Cypress in partnership with the Cypress Parks and Recreation Department. The event celebrated several outstanding women from Cypress and surrounding areas who have made a positive impact in both their careers and in the community. Throughout the morning, we learned about the inspiring career of Captain Jessica O'Brien, the first female Commanding Officer of the Naval Weapons Station Seal Beach, and heard from a police officer, pilot, news reporter and CEO about their experiences as a woman in their respective fields. The Woman's Club of Cypress also presented the Woman of the Year award to Gay Hannah, an active volunteer and member of the Cypress community. It was an honor to have the opportunity to recognize the achievements of each of these women, as well as the organizing efforts of the Woman's Club of Cypress and city staff who made the event possible. The conference was a truly positive event, and the insights of the speakers will serve to empower a new generation of female leaders."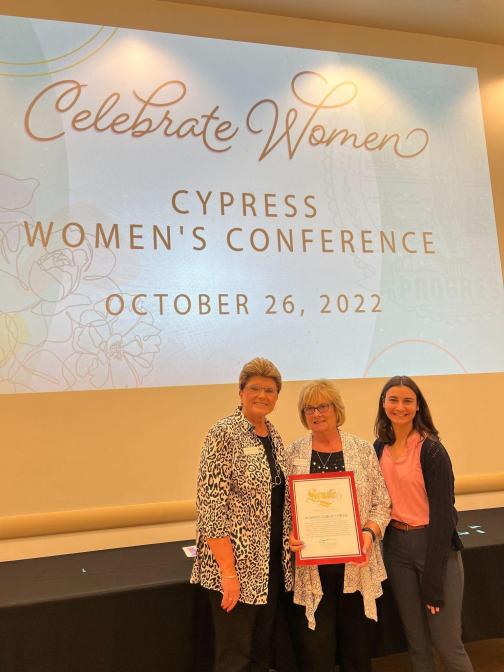 I'm lucky to have the privilege of serving you. As always, please let my staff or me know how we may be of service.
To contact the member of my team responsible for your community, click on their name to send an email:
STATEWIDE:
Federal Student Debt Relief
In August, President Biden announced the Federal Student Debt Relief program, a one-time debt relief program that will help cancel student debt for low- to middle-income borrowers. The Student Debt Relief application is simple and takes less than five minutes to complete. You will not need to log in with an ID or upload any documents. Applications can be submitted in English or Spanish and must be submitted by December 31, 2023.

 
California Launches Abortion.ca.gov
In partnership with several offices and departments across state government and California reproductive groups, the Office of Health Equity's Gender Health Equity Section has officially launched California's Abortion Access website.
This new website includes pertinent information for people both in and outside of California about accessing abortions, their legal rights, where to find providers, how to pay for services, how to find financial assistance, ways to locate wellness and emotional support and more.
 
Updated COVID-19 Boosters Available NOW
The FDA has authorized the updated booster for Moderna for adults 18 years and older and Pfizer for those 12 years and older. Previous boosters were monovalent and contained one strain, while these updated boosters are bivalent and add the Omicron strains prevalent in the most recent cases. Anyone 12 years and older who have had their primary series should get the updated booster at least 2 months following any COVID vaccine or booster dose.
It is recommended that everyone 5 years and older get boosted, if eligible, with the vaccine that is available to them. Children aged 5-11 years who received Pfizer for their primary series may continue to get the Pfizer booster based on the original strain.
You can book an appointment here.
 
Get up to $3,000 Toward an Earthquake Retrofit
Earthquake Brace + Bolt is a grant program that provides eligible California homeowners up to $3,000 toward a residential seismic retrofit. Its goal is to help homeowners lessen the potential for damage to their houses during an earthquake by "bracing" the crawl space when necessary, and "bolting" the foundation to the house's frame.
Homeowner Registration is open from October 18 through November 29, 2022. You can learn more about eligibility requirements here.
 
LOCAL:
OC Alert
Sign up for AlertOC to get notified in case of an emergency in Orange County. The mass notification system is designed to keep Orange County residents and businesses informed in the event of a time-sensitive emergency. Register today at AlertOC.org.
 
OC Workforce Solutions
Ready Set OC offers no-cost employment training for Orange County youth ages 14-24, including those with disabilities or IEP plans, former or current foster children, pregnant or parenting, offender or ex-offender, and those at risk of or experiencing homelessness. For more information, visit www.ocworkforcesolutions.com/.
City of Chino Hills Photography Contest
The City of Chino Hills is hosting a photography contest and is looking for residents to capture and share images that make them proud of Chino Hills. Photographers of all ages and skill levels are invited to submit photos by the entry deadline of Friday, December 2, 2022 using the online form. Learn more about the photo contest here.
 
Annual Winter Market at the Fullerton Museum Center
Join the Fullerton Museum Center on Saturday, December 3rd from 2-6 pm for their annual Winter Market at the Downtown Fullerton Plaza. The event will include artisan crafts, unique vendors, holiday performances, music, food trucks, a beer and wine garden, pictures with Santa, and more! Admission to the event is free. For more information, reach out to info@fullertonmuseum.com.