Newsletter
Senator Newman's March 2023 Newsletter
Dear Friends and Neighbors, 
Each year in March, Women's History Month offers an opportunity to recognize and celebrate the many achievements of the courageous and talented women who have broken barriers and made significant contributions in their respective fields throughout history. Women's History Month also serves as a reminder that the fight for gender equality is far from over, as women still face significant challenges in terms of pay equity, reproductive rights and access to education and opportunities.
As part of Women's History Month, each year the California Legislature honors some of the outstanding women who live and work in our communities. This year, it is my distinct privilege to be able to honor Kelly Vlahakis-Hanks as the 29th Senate District's "Woman of the Year."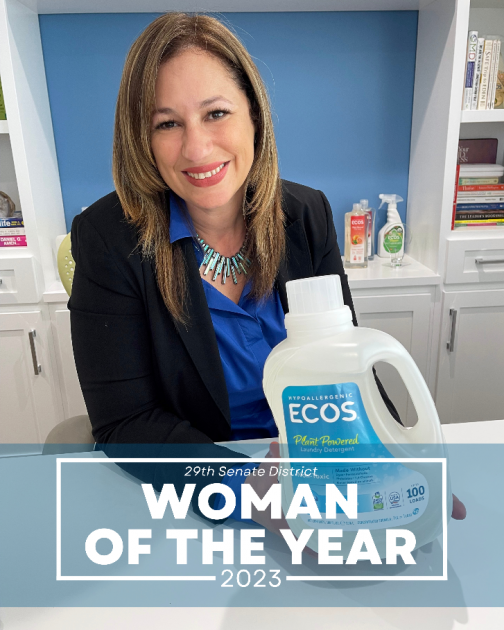 Kelly Vlahakis-Hanks serves as the Chief Executive Officer of Earth Friendly Products, a Cypress-based manufacturer of ECOS Laundry Detergent and more than 200 other environmentally friendly products that are safe for people, pets and the planet. As Earth Friendly Products' CEO, Kelly has expanded on the legacy of the company's founder and her father, Van Vlahakis. Under her leadership, Kelly has led ECOS to become a Climate-Positive company and the first company in the world to achieve the "sustainability trifecta" of carbon neutrality, water neutrality and Platinum Zero-Waste certification. The company's sustainable business practices have made the company a model for green business in the U.S., and it has received many awards for its innovations in safer green chemistry, including receiving the U.S. EPA's Safer Choice Partner of the Year four times.
As an African American woman and the daughter of a Greek immigrant, Kelly Vlahakis-Hanks has ensured that environmental and social justice are a cornerstone of the company's mission. Kelly actively promotes a corporate culture of diversity and empowerment, ensuring that over 50% of her C-Suite and top executives are women while providing exemplary leadership in the "green economy" through the creation of sustainable manufacturing jobs offering strong employee benefits and a living minimum wage which is among the highest in the industry. She also offers financial incentives to employees who make sustainable living choices such as purchasing a low-emissions vehicle or solar panels.
In recognition of her outstanding leadership and positive impact, Kelly has received many awards, including being named to Entrepreneur Magazine's list of "100 Powerful Women of 2020" and Conscious Company's list of "World-Changing Women in Conscious Business." We're very proud to have Kelly and her company here in the 29th Senate District and are pleased to be able to recognize her as the District's "Woman of the Year" for 2023.
In the space below, you'll find my office's monthly update.  As always, my office is here to help answer any questions or concerns you may have regarding taxes or other issues facing our community. Please don't hesitate to contact my office at 714-525-2342 or https://sd29.senate.ca.gov/contact.
All the best,
Josh Newman
Senator, 29th District
 
Legislative Update
Last month, a record 2,632 bills were introduced in advance of the Legislature's February 17th bill introduction deadline. Within this very daunting pile, 238 bills, or just under 10% of the total, pertain in some way to education in California. Consequently, many will eventually make their way to the Senate Committee on Education, which I now chair. The committee's very committed and talented staff is already hard at work as they take on the herculean task of analyzing each of these proposals with a careful focus on what best serves California's students.
As the legislative process unfolds, I will also see a large number of the rest of the bills submitted, in my capacity as a member of the Senate Committees on Energy, Utilities, and Communications; Elections and Constitutional Amendments; and Transportation.

My team and I are also hard at work preparing our own bills for their committee hearings, a process that will play out over the next two months. California's lengthy nine-month legislative process allows for robust evaluation and discussion over these proposals and oftentimes, the legislation goes through numerous rounds of amendments. As my legislative initiatives move, I'll continue to keep you up to date as it progresses or is amended (or killed) throughout the process. Some info on two of the bills that I am currently working on:
Textile Recycling
Each year, the average U.S. consumer discards more than 81 pounds of clothing, an increase of 55% per capita since the year 2000. The rise of "fast fashion," which revolves around the marketing and sale of low-cost, low-quality garments which tend to go out of style with increasing speed, threatens to have a long-lasting and devastating impact on our planet. My bill, SB 707, would create a statewide collection and recycling program for textiles in which producers of clothing and other textiles will be required to implement and fund an extended producer responsibility (EPR) program that will enhance recycling and increase re-use in this important sector.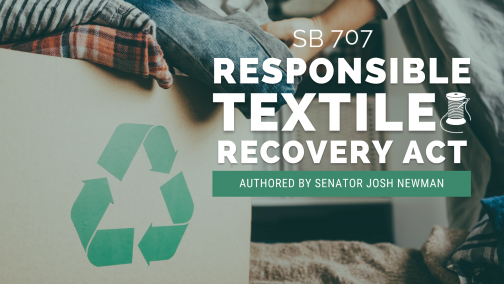 Expanded Recess in California's Schools
A wide body of research has found that recess, and the unstructured play it enables, serves as a critical outlet and break for students to reset their minds and bodies during otherwise regimented school days filled with academic demands. It may surprise you to hear that, unlike other states which have adopted standardized school recess policies, California currently has no statewide standardized policy governing the quantity and quality of recess time in its schools. I've introduced SB 291 to ensure that all K-8 pupils in California are assured of a minimum standard of recess and that recess cannot be withheld as a form of punishment or discipline except where a child's presence on the playground might present a danger to themselves or others.
For a list of my full bill package for the 2023-24 Legislative session, please visit my website here.
Recognizing Teen Dating Violence Awareness Month
On February 6th, I joined Senator Susan Rubio as a co-author of Senate Resolution 13, which recognized February as "Teen Dating Violence Awareness" Month and highlighted the important role of preventive education programs. By empowering teens with the tools necessary to identify and address unhealthy and healthy relationship patterns, we can break the cycle of violence prevalent among teen dating relationships.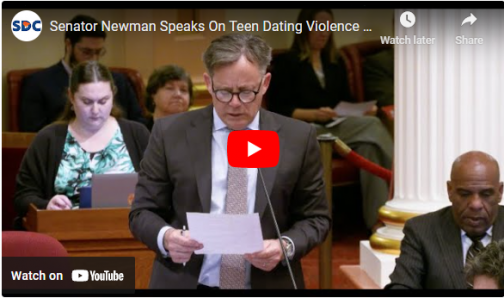 As part of these efforts, I was also honored to recognize and welcome to the Capitol a delegation of leaders and student advocates from the One Love Foundation and their student advocates to the Capitol. One Love is a national non-profit organization with the goal of ending relationship abuse. Over the course of their two days of meetings with legislators in Sacramento, they advocated to bring attention to teen dating violence and the importance of prevention education. For more information on their efforts and to access free educational resources, visit www.joinonelove.org.
If you or someone you know is experiencing dating violence, there are resources available to help. The National Domestic Violence Hotline is available 24/7 at 1-800-799-SAFE (7233) for confidential support and assistance.
UPCOMING HEARING: The State of the Educator Workforce
As Chair of the Senate Education Committee, I am convening an oversight hearing on Wednesday, March 15 at 9:00 a.m. in partnership with the Budget Subcommittee on Education.  The focus of the hearing will be to examine issues related to the state's educator pipeline and preparation, as well as recruitment and retention.
During the hearing, expert panelists will provide assessments of California's current efforts toward promoting teaching as a profession and the state of California's programs that prepare teachers for the classroom.  The committees will also hear from educators who will share their perspectives on diversity within the educator workforce, as well as provide insight on which subject areas may be in acute need of improvement or support.
You can watch the hearing live at www.senate.ca.gov/calendar.
 
OC Black History Parade and Unity Festival
On February 4th, my district office kicked off Black History Month by participating in the 43rd annual Orange County Black History Parade and Unity Festival. Organized yearly by the Orange County Heritage Council, this community event attracts thousands of community members and pays homage to Black cultural contributions and history. This year's parade featured schools, church groups, community members, nonprofit organizations, floats, marching bands, dance teams, dignitaries and our very own "Better Senator" ice cream truck. As it does each year, the parade culminated at the Unity Festival where attendees enjoyed music, food, local vendors, a health village, a youth village, a custom car and motorcycle show, as well as interactive lessons on black history.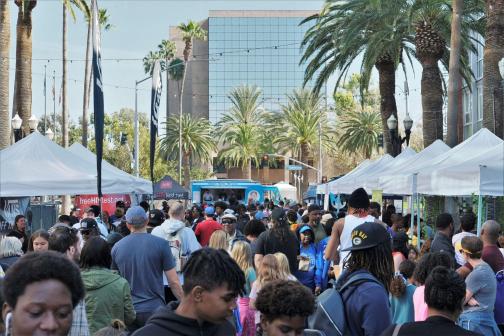 Celebrating Entrepreneurship at CSUF
I was honored to be a keynote speaker at the "SoCal Celebrates Entrepreneurship" Conference at CSUF on February 11th. This annual event captures the spirit of entrepreneurialism, bringing together business-minded individuals from across the region to provide expert-led panel discussions and showcase a number of novel small-business ventures. In my remarks, I addressed the role of small businesses as a primary driver of economic growth and recovery. Entrepreneurs generate growth by introducing new technologies, products, services and jobs, and in doing so create the necessary competition that challenges the market. Thank you to SoCal Celebrates Entrepreneurship and the Cal State Fullerton Center for Entrepreneurship for hosting this wonderful event, and for serving as a link between aspiring entrepreneurs and business communities across the region.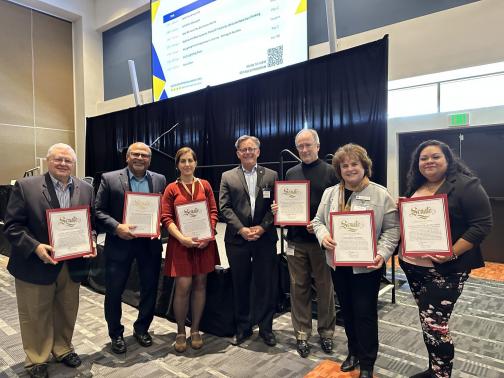 Working Wardrobes Tour
The road back to employment can often be long and challenging, especially for the most vulnerable in our communities. Since its founding in 1990, Santa Ana-based Working Wardrobes has served over 100,000 clients to overcome their challenges and to find meaningful employment, including substance abuse, domestic violence, incarceration, homelessness and military-to-civilian transition. Working Wardrobes' Career Success Center, which I had the opportunity to tour on February 24th, is fully equipped with new computers and other digital resources to support workforce readiness and career transitions. Working Wardrobes also provides professional attire and styling services to best set individuals on a path to success.
I'd like to thank CEO Bonni Pomush and Ashley Baribeault-Vlcan for providing this informative tour and for their dedication to providing career development, job training and warm encouragement to empower all who are on their path to employment.
 

Brea Olinda High School Crepe Day
In France, February 2nd is La Chandeleur, a day to enjoy all the possible fillings that can go into a crepe. For the lucky students at Brea Olinda High School enrolled in French courses, "Crepe Day" is a classroom tradition hosted by Madame Nadia Fox, where students and guests can enjoy delicious homemade crepes.
As part of Crepe Day, Madame Fox's students learn to prepare and make crepes for a friendly intra-classroom "crepe-off." I was more than happy to be asked to serve as a judge, along with BOUSD Superintendent Brinda Leon and Elizabeth my staff. We did the hard work of tasting and judging all of the sweet and savory crepe concoctions created by Madame Fox's students. In the spirit of exacting French culinary traditions, we graded not only on taste but on presentation and were hugely impressed by the creativity and skills of the contestants. Although only the top three crepes were awarded ribbons, we thoroughly enjoyed them all. A big "Merci" to Madame Fox for creating this very fun event celebrating cultural exchange—just as you would expect from Brea Olinda High School's "Teacher of the Year."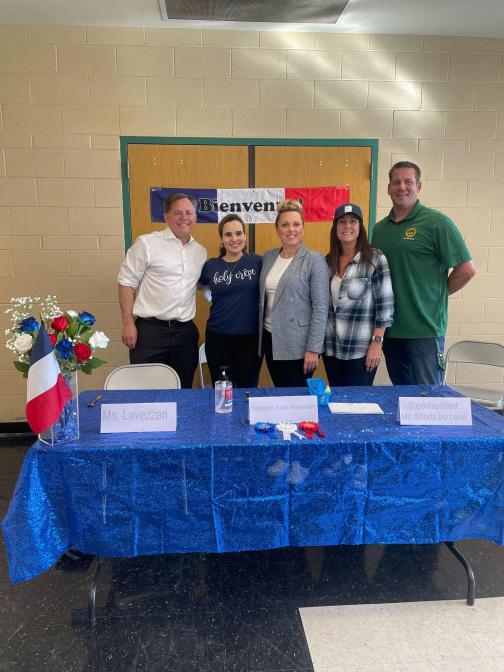 COTM
I was very pleased to recognize Scott Miller, Executive Director of the La Habra Collaborative, as our Citizen of the Month for February 2023.  Through his very admirable community work over the past three decades, Scott has gained the reputation of a trusted leader in La Habra.
As the head of the La Habra Collaborative, Scott coordinates the daily operation of several food and supply distribution services located at the Hillcrest Community Health and Wellness Center.  An essential community resource since the moment of its opening, the center has only become more important with time. Scott's leadership at the community center has helped stabilize thousands of families in the face of some of the unprecedented economic challenges caused by the COVID-19 pandemic. In the last year alone, the center has fed thousands of La Habra-area households on a regular basis. Among those, more than 50,000 children and 20,000 seniors have received emergency food assistance.
 

Much of this work would be impossible without the partnership between local businesses and the La Habra Collaborative, and Scott has been pivotal in forging those connections. As part of the nonprofit's various food, clothing and hygiene programs, these generous local businesses find a sustainable destination for their surplus goods. In preventing the waste of marketable products and perishable foods, Scott and the La Habra Collaborative have created durable and reliable resources that have served the community for years.
Scott, thank you for everything that you do. We wish you the very best as you continue to serve our community every single day.
ROTM
It was my privilege to recognize AT230 Cars and Coffee as the 29th Senate District's February 2023 Restaurant of the Month.
Located in the city of La Habra, AT230 is a specialty coffee and car installation and modification shop– making owners Stanley Chan and Shin Okamoto's vision of creating a space for people to share their love of cars over a cup of coffee a reality. With a broad selection of espresso, coffee, and tea offerings, patrons are sure to find their preferred beverage while enjoying a look into the professional modification and installation workshop.
If your car is in need of a wheel alignment or you'd like to observe professional installation services, pair it with an Old Smoky Latte and pastry at AT230 Cars and Coffee, located at 230 E La Habra Blvd., La Habra, CA 90631.
 
From Erica Lucia, District Director:
"While awaiting our turn to enter the procession at the Orange County Black History Parade, I ran into an old familiar face– former SD29 District Representative, Evan Kraemer, crossed our path while out with his pal Carl, pictured here. Participating in the annual Parade and Unity Festival has quickly become one of my favorite yearly events, as we're able to connect with so many enthusiastic residents and our Better Senator ice cream sandwiches are always a huge hit. If you and your family haven't attended this event before, be sure to pencil it in on your calendar for next year."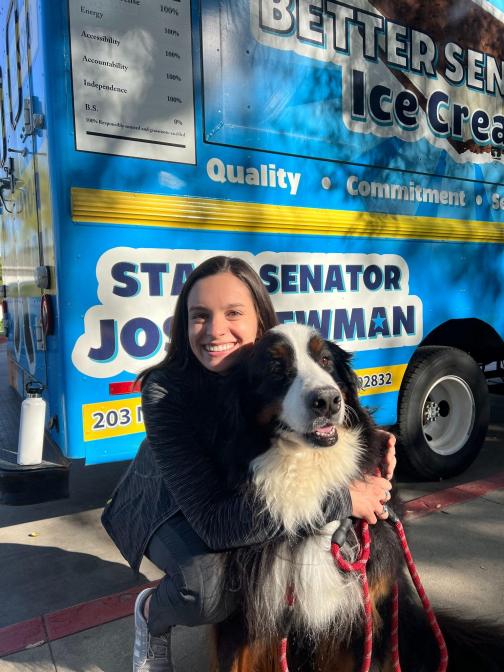 From Sheen Sidhu, serving the cities of Buena Park, Brea, Industry and Yorba Linda:
"This month I had the honor of recognizing the Buena Park Police Department for their dedication and commitment to maintaining public safety and upholding the law. On February 14th, local officials, fellow officers, and residents gathered to honor the life-saving efforts demonstrated by Officer Moeller, Officer Rubalcava, Corporal Bernal and Officer Choi. As a result of their courage, quick thinking and bravery, precious lives were saved and the safety and welfare of the residents and businesses of Buena Park were protected. Thank you, Buena Park Police Department, for your sacrifices and commitment."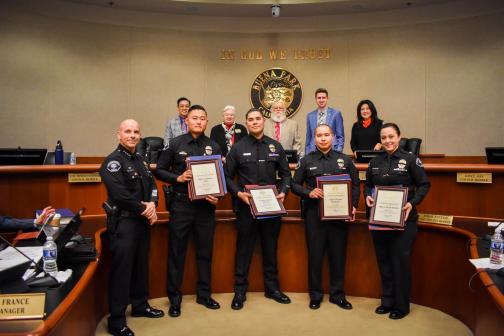 From Scott Do, serving the cities of Fullerton, La Habra, Stanton and Walnut:
"It was an honor to speak in front of Dr. Shana Charles' class at CSU Fullerton. As a Titan alumnus, I sat in the very classroom I spoke in front of while pursuing my Bachelor's degree in Political Science. Often, the professor would bring in guest speakers who could teach us about what their agencies did, and what they learned in their years of professional experience. On Wednesday, I experienced a full circle moment when I had the privilege of being one of those speakers. I'm grateful to Dr. Charles for allowing me the opportunity to share a piece of me that only further reminded me of why I pursued a life in public service. It's not about myself, but it's about the people's lives that you can touch. It's the possibility that when you leave this world, you did something for someone, for the better."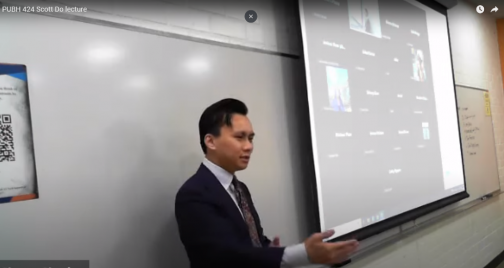 From Nathan Bass, serving the cities of Anaheim, Chino Hills, Diamond Bar and Placentia:
"On the first day of February, I journeyed to the campus of Cal Poly Pomona to receive a briefing for legislative staff members. The briefing provided insights into how the university is striving to satisfy growing enrollment demands from the community while ensuring the quality of education and services promised to students. As Cal Poly Pomona continues to grow, it does so with a keen eye toward accessibility and inclusion. The 2022-23 school year has brought about a campus-wide shift in human relations, and numerous initiatives have been launched to support the well-being of the many diverse student subgroups at the university. I was grateful for this opportunity to engage with the university and to learn what it is doing to cultivate an environment in which all feel welcome and everyone can succeed."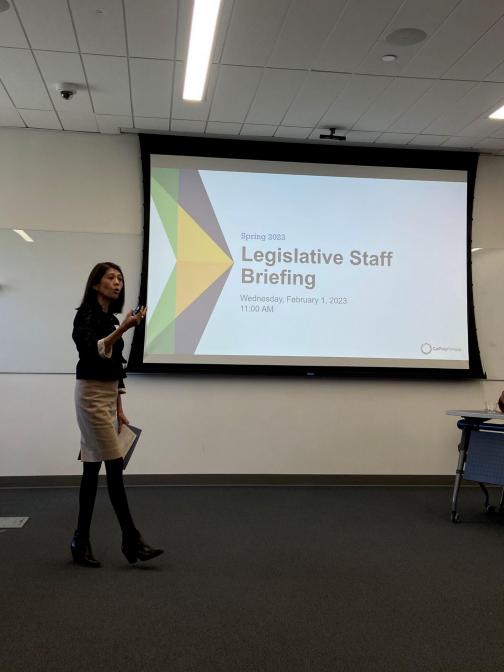 From Elizabeth Lavezzari, serving the cities of Cypress, La Palma, Rowland Heights and West Covina:
"On February 16th, I had the honor of representing our office at the City of West Covina's Centennial Dinner and Celebration. The event was well-attended by community partners and allowed an opportunity to reflect on the growth and development of the city since its incorporation in 1923. Our office presented the current City Council with a Certificate of Recognition for this important milestone to recognize the legacy of West Covina's past and current leaders. Guests enjoyed presentations focused on the City's past, present and future from the West Covina Historical Society, Mayor Rosario Diaz, and City Manager David Carmany. This celebration kicked off a three-day community festival in honor of the anniversary, continuing the excitement and sense of unity into the long weekend."
 
To contact the member of my team responsible for your community, click on their name to send an email:

STATEWIDE:
Upcoming Tax Deadline
As we near the April 18th tax deadline, here is some important information that could be beneficial as you prepare to file your taxes.
The Middle-Class Tax Refund is NOT Taxable: The MCTR payment is not taxable for California state income tax purposes. You do not need to claim the payment as income on your California income tax return.
The California Earned Income Tax Credit: The California Earned Income Tax Credit (CalEITC) offers support for low-income, working Californians. You may be eligible for up to $3,417 cash back or a reduction of the tax you owe.
Young Child Tax Credit: You may qualify for up to $1,083 cash back if you had a child under the age of 6 at the end of the tax year.
Disaster-Related Tax Relief: The FTB and IRS are providing tax relief by extending the deadlines for affected taxpayers to May 15, 2023. Affected taxpayers include individuals and businesses located within the communities covered by the most recent winter storm disaster declarations.

There are a number of resources available as you prepare to do your taxes, including:
CalFile: You can use CalFile to e-file your state tax return for free directly to the Franchise Tax Board. Get real-time confirmation and the fastest refund possible.
IRS Free Tax Return Preparation for Qualifying Taxpayers: The Internal Revenue Service's (IRS) Volunteer Income Tax Assistance (VITA) and Tax Counseling for the Elderly (TCE) programs offer free basic tax return preparation to qualified individuals, including people who generally make $60,000 or less, persons with disabilities, and limited English-speaking taxpayers.
IRS Tools: The IRS has a variety of online tools available for individual taxpayers, businesses and tax professionals. From ordering copies of tax records to checking the status of your income tax refund and finding out what credits and deductions you qualify for, this list of tools is a great place to start.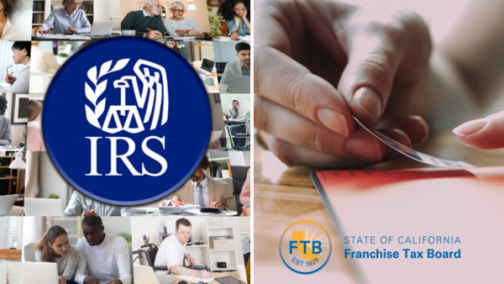 Explore State Parks for Free
There are great opportunities to explore the great outdoors with your family and friends. Here are three ways to get outside and save money once the weather warms up:
Fourth graders can obtain a free California State Park Adventure Pass to explore 19 select state parks for free for a full school year.
All Californians can check out a California State Parks Library Pass by using their library cards to access more than 200 participating state park units.
Families receiving California Work Opportunity and Responsibility for Kids (CalWORKs)' individuals receiving Supplemental Security Income (SSI) and income-eligible Californians 62 and over can apply for the Golden Bear Pass with their smartphone or other web-based device in just minutes and have access to more than 200 California state park units.


Clean California Funding
With more than 1.3 million cubic yards of trash cleaned from California highways since 2021, the Clean California Initiative is launching a new round of funding for $100 million in grants for local projects. Apply for the Clean California grants here by 5 p.m. on April 28. Caltrans will announce the winning grant recipients by September. Potential projects can include removing litter on city streets, creating a gateway at the entrance to a town or neighborhood, beautifying an area through greening or landscaping, or using public art to reinforce community cultural connections.
 

LOCAL:
Socal Gas Assistance
If you're having difficulty paying your natural gas bill, the Gas Assistance Fund (GAF) may be able to provide you with a one-time grant for the amount of your gas bill, not exceeding $100. These funds are allocated on a first-come, first-served basis. Eligible customers can apply here until all funds are depleted.
To qualify for GAF, you must meet the following requirements:
The natural gas bill must be in the name of the applicant requesting assistance.
The billing address must be the applicant's primary residence.
The applicant must not apply for more than the maximum GAF allowance for the current program year.
The applicant must meet the income guidelines.